Take the Sugar Addiction Quiz…
Answer Yes or No to the following:
I can go more than one day without eating sugar   Y or N
I don't get cravings for sugar, coffee, chocolate, peanut butter or alcohol. Y or N
I can stop after eating one piece of candy.   Y or N
I can go for more than 3 hours without eating without getting fatigues, irritable, depressed or anxious. Y or N
I can have sugar or candy in my home and not eat them. Y or N
I can go for more than one hour after waking up in the morning without eating. Y or N
I can go a few days at a time without drinking a soft drink. Y or N
There are times when I can have candy in my home and not eat it. Y or N
I don't eat refined sugar every day. Y or N
I rarely eat sweets (pastry or doughnuts) for breakfast. Y or N
I do NOT eat something sweet after dinner. Y or N
I do not need to eat sugar to feel better. Y or N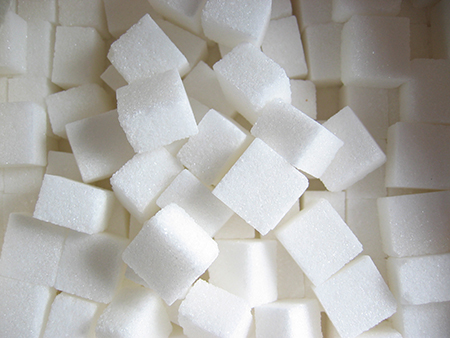 If you answered NO to 4 or more statements you are probably sugar-addicted. Just like an alcoholic is addicted to alcohol, you crave sugar, you get withdrawal symptoms and really can't go without it.
The following are just a few reasons to avoid sugar1:
Sugar may lead to cancer
Sugar may lead to gallstones
Sugar may lead to varicose veins
Sugar may lead to varicose veins
Sugar may lead to appendicitis
Sugar may lead to heart disease
Sugar may lead to increased cholesterol
Sugar may lead to obesity (1 in 5 deaths in the US is now associated with obesity)
Sugar may lead diabetes Type 2
Sugar may lead to tooth decay
Sugar may lead to hypoglycemia
Sugar may lead to acidic digestive tract
Sugar may lead to cancer in ovaries
Sugar may lead to increased triglycerides
Sugar may lead to hyperactivity
[pro_ad_display_adzone id="8825″]

Why are we addicted to sugar?

Eating this sweet stuff triggers the production of natural opioids in your brain. These hormones aid in reducing pain and respond in the same way as in taking illegal drugs2.
When your tongue, which is loaded with receptors taste the sugar it sends many "rewards" signals to you brain. You feel happier, less stress-out and calmed down…
What ends up happening is that when you eat sweets this reward center OVERRIDES your self-control center. After many repeated cycles — you end up addicted.

According to a study3 published by Reuters if you reach 18% of your total calories coming from sugar you have now doubled your risk of getting diabetes. So on a 2,000 calorie diet (per day) that's 360 calories of sugar or 2 fruit juices per day or A Starbucks Mocha Frappuccino. But it gets worse. If 25% of your calories come from sugar, you now have doubled your chances of dying from Heart disease, the Number 1 killer in this country.
1 http://articles.mercola.com/sugar-addiction.aspx
2 National Institute of Drug Abuse, November 2014
3 Reuters March 4, 2015