So after 40 years of consuming artificial sweeteners in this country, is there any proof that they help us lose fat?
First, let's take a quiz: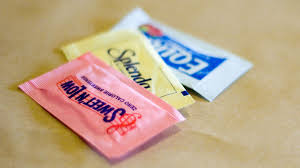 The world's first artificial sweetener was:
a. Aspartame (Nutrasweet)
b. Saccharin (Sweet'n' Low)
c. Sucralose (Splenda)
d. Fructose
Answer: ?
If you answered a, you'd be incorrect. Aspartame, even with its numerous studies indicating it's a cancer-causing substance, was not approved by the FDA until 1981.  If you chose c, you'd be wrong again. Splenda hit the market in 1999. And it's definitely not d, since fructose is a fruit sugar. The only choice left is b. The correct answer is Saccharin.
Saccharin was discovered in 1879 making it the first artificial sweetener in the world. [A Russian chemist who had been working on coal derivatives accidentally got it all over his hands. When he went home and bit into a home-made roll, he noticed the amazingly sweet taste, even though there was no sugar in the bun. He had accidentally discovered saccharin (Sweet n' Low, SugarTwin)].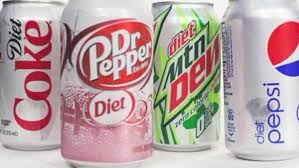 From 1960 to the year 2000, the consumption of artificial sweeteners had increased by 400%1. Diet Coke being the Number 1 seller of artificially sweetened soft drinks.
It was the American Diabetes Association that came out in 2012, stating, "including artificially sweetened drinks in the diet would reduce weight and weight related diseases (such as diabetes)."
They could not have gotten it any more wrong!
The obvious result is that since we've been using artificial sweeteners, obesity has skyrocketed.
The American Cancer Society  surveyed 78,694 women to find out if artificially sweetened drinks had helped their weight loss efforts. The complete opposite findings were reported. Artificially sweetened drinks did not help these women lose any weight over the one-year period.2
[pro_ad_display_adzone id="8825″]
The truth is that in 2012, results3 from the Northern Manhattan 10-year long study reported by Dr. Gardener from the University of Miami found that drinking diet sodas has a 43% correlation to strokes and heart attacks, a 34% increase in metabolic syndrome and absolutely no weight-reduction correlations.
Recently, Harvard University conducted a study on overweight adolescents4. One group was given water and diet drinks and the other group was given regular (non-diet) drinks. Neither group lost weight.
Bottom line:
Assuming that you'll lose weight by eating less calories (by replacing regular sodas with diet sodas) has never been proven. On the contrary, no weight or fat loss has ever been reported.
Your best bet is to stick with natural sweeteners like Stevia.
Sweet, huh? 🙂
Shaun
References:
1 Fung, Jason, The Obesity Code, 2016, Greystone Books
2 Stellman, S.D. Garfinkel, L. Artificial sweeteners use and one-year weight change among women. Prev Med 1986 Marc: 15(2);195-202
3 Gardener, H. et. al. Diet Soda drink consumption associated with an increase risk of vascular events in Northern Manhattan study. J. Gen Inter Med 2012 Sep;27(9):1120-6
4 Ebbeling CD, et.al. A randomized Trial of sugar-sweetened beverages and adolescent body weight. N Eng J Med 2012 Oct 11;367(15):1407-16