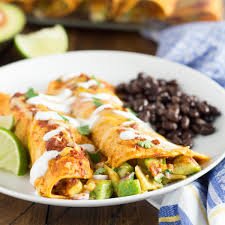 I don't know about you but I am constantly trying to come up with ways to save time in the kitchen while still creating healthy, exciting meals for Shaun and I. 
If you are looking for a quick and delicious option that the whole family will love, then I am happy to share with you this very festive breakfast recipe that has been a BIG hit at our house…
EGG Enchiladas

Ingredients
1 whole egg
3 egg whites
2 Tbsp. raw cheese (shredded cheddar)
1 brown rice tortilla
¼ avocado
¼ cup salsa
[pro_ad_display_adzone id="8825″]
 Directions
Lightly coat a small pan with cooking spray (without propellants)
Whisk eggs until blended out into pan and scramble 2 minutes
Add cheese and stir eggs until they are set and cheese has melted.
Lightly dampen two paper towels and place tortilla between them.
Microwave on high for 20 seconds
Fill tortilla with eggs and cheese mixture sliced avocado and spoonful of salsa
Roll up with remaining salsa and enjoy this for breakfast or even dinner.
This Latin twist on breakfast was a great way to spice up our regular "egg routine" and still get in all the healthy benefits of fresh salsa and the good fats from a ripe green avocado. 
Give it a try and watch the smiles on your families grow with each bite!
Karen