I hear it all the time!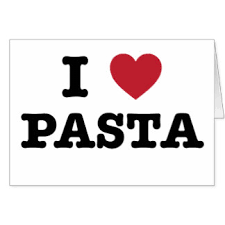 Pasta? For weight loss? No way.
Pastas are better for you than you think. Let me convince you. 
Instead of totally avoiding pasta, just read the following article and you'll see why you shouldn't shun this amazing food. The problems is not in the pasta itself but rather the portion sizes and the sauces like Alfredo sauce poured over  a  plate full of spaghetti.
Gluten free Organic Rice Pasta (eat on high carb days)
Even though this is still considered a starch, if you're a pasta lover you can give this a try after a workout with your favorite chicken, fish, turkey, or even shrimp.  This type of pasta contains more carbs, we always recommend that you eat this type of starch after resistance training whenever possible. Why eat brown rice? MANGANESE!
Manganese helps produce energy from protein and carbs and synthesizes fatty acids. Also produces sex hormones from cholesterol.
Gluten free Black Bean Spaghetti (use on high intensity cardio days)
The first time we tasted this, we were pleasantly surprised at how good it was. I usually add homemade red sauce and a small amount of animal protein like grass fed beef, organic pasture raised chicken or turkey.
This has 16 grams of healthy low glycemic carbs AND 20 grams of protein. It also contains just two ingredients; black beans and water. This is a great pasta to eat on a high intensity cardio day when you're trying to keep carbs a little lower than normal, but still want to enjoy your carbs.
On a worldwide basis, legumes beat all other groups of food for its health-supportive mix of protein-plus-fiber. Black beans also have great antioxidant and anti-inflammatory phytonutrients. 

Shirataki Spaghetti (use on Low Carb Days)
It's gluten free, vegan… and it tastes almost like real spaghetti.This is the lowest carb healthy pasta with only 4 grams of carbs per serving…  I like to make this oriental style by adding some free range chicken breasts, shitake mushrooms, garlic, broccoli, bamboo shoots, ginger, red pepper flakes… and then add some gluten free low sodium soy sauce.
One amazing benefit of these vegan and gluten-free shirataki noodles is that they satisfy your hunger while contributing almost no calories from carbs.  Shirataki noodles are mostly water, gelled by a relatively modest amount of glucomannan.
Research has shown that consumption of glucomannan 5— the key ingredient in shirataki noodles — lowered levels of total cholesterol and the "bad" cholesterol known as low-density lipoprotein (LDL). 
It also helped regulate blood glucose levels, which contributes to achieving and maintaining a healthy body weight. Traditional shirataki noodles are pretty much the perfect food for those who may have food allergies or are on special diets. They naturally don't contain any calories because the glucomannan starch they're made of is an indigestible dietary fiber (and also contains zero carbohydrates). 
[pro_ad_display_adzone id="8825″]
Final pieces of advice about eating pasta to lose belly fat:
One thing Shaun taught me a long time ago that will help you limit fat storage is to make sure you combine these pastas with some veggies and a complete protein source. You can get away with eating the black bean spaghetti by itself, but we still recommend adding a little more complete animal protein.

Lastly, time your intake of these pastas properly. Don't eat them every day. And consume them based on your activity levels.
Enjoy your pasta and thanks for taking time out of your busy day to read this!
Your friend,
Karen