Some tips for eating potatoes:

Avoid the extra 500 calories of butter, sour cream and bacon
Eat potatoes with a protein
Never eat them by themselves
Don't deep fry…(when we say potatoes are good for you, we don't mean French Fries)
To some people, it appears that eating potatoes and losing weight should never be in the same sentence…
In this video, I reveal the truth about potatoes and how they can actually help you.
Most people do not want to eat "white starches" (i.e. carbs) while trying to lose fat but there are 3 reasons why you should be eating potatoes…especially if you exercise. I would limit these starches if you are sedentary, but not if you are active.
[pro_ad_display_adzone id="8825″]
Reasons: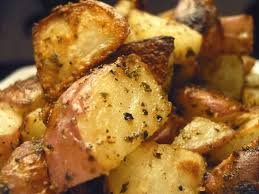 1) Glycolysis: ATP, Carb Utilization:
Potatoes will help you utilize carbohydrates for the long haul so you become a fat-burner.
How?
Glycolysis is the breakdown of carbohydrates. Once you start to exercise, glycolysis lasts from roughly ten seconds and up to about two to three minutes. The energy for glycolysis comes from glucose, or our stored form of glucose – glycogen.
2) Potatoes replenish glycogen, help hormones balance out and allow for mental energy to improve:
Glycogen is stored in muscle and the liver. The average person holds about 1,500-2,000 calories of stored glycogen. Broken down there are about 100g of glycogen in the liver and more than of 400g of stored glycogen in muscle tissue. When you don't eat certain white starches your fat-burning hormones, especially Leptin, will decrease after 5-7 days of going low carb.
3) Potatoes create an Anabolic Environment:  While catabolism is the breakdown of muscle, anabolism builds muscles. Eating potatoes creates an anabolic environment keeping cortisol in check and making sure you have no muscle loss.
So go enjoy your spuds! 🙂
Shaun