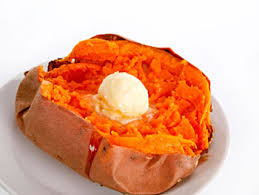 Before you ignore this post on high carb foods. There's something you should know. Stop Avoiding High-Carb healthy foods. PERIOD. They are important. You just have to know which ones to eat and how to time them. The following are some of the most potent, anti-aging, immune-boosting, antioxidant foods on the planet.
                                                  ***************************

Blueberry: Here is the grand-daddy of all super fruits. Blueberries have one of the highest sources of anti-oxidants, with about 14.5 % carbs. They have been shown to improve memory.
Quinoa: No doubt about it, quinoa is a high carb food (21.3% carbohydrates) but it also contains protein and fiber. Not only does it help with blood sugar, this non-gluten cereal type food has many minerals and lots of fiber that will help weight loss.
Oats: great source of anti-oxidants contain 66% carbs but 11% of that is fiber. Studies have shown that oats reduce cholesterol.1
Bananas with 23% carbohydrates, bananas lead other fruits in potassium and Vitamin B6. Potassium helps lower blood pressure. And if you can consume a green banana you are providing your gut health with what is called "resistant starches" which feed gut bacteria.
[pro_ad_display_adzone id="8825″]

Oranges (not juice) have about 11% carbs and a great source of fiber; there are studies stating that they help absorb iron from foods.2
Sweet potatoes loaded with fiber and a great source of Vitamin A (from beta carotene). Full of vitamin C and Potassium
Sweet potatoes also reduce oxidative damage because it is rich in anti-oxidants.
Beet roots or beets are one of the lowest in carbs around 8-10% carbs and are made up of sugar and fiber.
Grapefruit contains about 9% carbs and many nutrients. One of the few fruits that actually helps reduce weight and prevent kidney stones.
Apples have about 15% carbs and are a great source of Vitamin C. The pectin in the skin is a great source of fiber.
Kidney beans have about 22% carbs and very high in protein. They contain antioxidants and improve blood sugar and reduce risk of colon cancer (don't eat them raw they are toxic).
Chick peas (garbanzos) contain 27% carbs and 8% of which is fiber. They contain many B vitamins and iron. They are also known to prevent cancer.3
If you're interested in learning how to time these check out the link below:
References:

1 Ann Nutr Metab. 2003;47(6):306-11.Effect of an oat bran enriched diet on the atherogenic lipid profile in patients with an increased coronary heart disease risk. A controlled randomized lifestyle intervention study. Berg A, et.al..
2  Am J Clin Nutr. 2011 Jan;93(1):73-80. doi: 10.3945/ajcn.110.004945. Epub 2010 Nov 10. Hesperidin contributes to the vascular protective effects of orange juice: a randomized crossover study in healthy volunteers. Morand C et. al.
3 Br J Nutr. 2012 Aug;108 Suppl 1:S11-26. doi: 10.1017/S0007114512000797. Nutritional quality and health benefits of chickpea (Cicer arietinum L.): a review. Jukanti AK