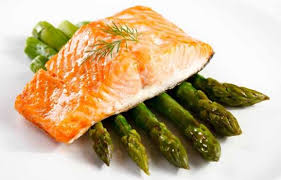 Everybody knows that Salmon is loaded with Omega 3's and is amazing for your health. It has a hefty dose of Vitamin D (many of us are deficient), has been shown to protect your body against heart attacks and strokes [1,2], provides protection for the brain, and the Omega 3s may even help with symptoms of depression.
But did you know if you pair Salmon with the right veggies it can give you a powerful anti-inflammatory combination?
Asparagus is the perfect example. Just one cup of cooked asparagus contains 4 grams of fiber, and is also a great source of vitamins A, C and K.
Shaun shared an article with me citing a bunch of studies, which have found that asparagus may help stop the growth of several types of cancer, and studies in mice suggest it may help protect brain health and reduce anxiety [3,4,5].
By combining Salmon with Asparagus you get an amazing anti-aging combination of ingredients to help you ward off today's deadly diseases, while helping you look and feel younger.
And it's so simple to make, it takes just 10 to 12 minutes.
I paired it with asparagus because this vegetable has major anti-inflammatory properties; not to mention a great source of Vitamin B6 and fiber.
Here's an easy Salmon recipe:  (Serves 1)

4-6 Oz. salmon
Salmon seasoning (chef Paul Prudomme's)
1 cup asparagus.
[pro_ad_display_adzone id="8825″]
Directions:
Season salmon and bake at 350 degrees or broil for 10-12 minutes until desired doneness.
Steam one cup of asparagus and top with organic butter from grass-fed cows.
Plate side by side and enjoy all the amazing health benefits of this powerful combo.
Your friend,
Karen
References:
1) http://www.ncbi.nlm.nih.gov/pubmed/22682084/
2) http://www.ncbi.nlm.nih.gov/pubmed/23112118
3) http://www.ncbi.nlm.nih.gov/pubmed/24310501
4) http://www.ncbi.nlm.nih.gov/pubmed/24716915
5) http://www.ncbi.nlm.nih.gov/pubmed/24348707