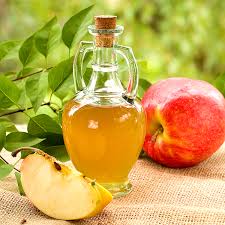 If there was one elixir that Karen and I could say has more benefits than any other, it would have to be Apple Cider Vinegar (ACV).
The following is by no means an exhaustive list of what this drink can do…
Diabetes
Vinegar has a beneficial affect on blood sugar levels. The acetic acid in vinegar lowers the blood sugar by completely digesting the carbs and thus slowing down the conversion of carb to sugar. One study found that vinegar treatment improved insulin sensitivity in 19 percent of individuals with type 2 diabetes and 34 percent of those with pre-diabetes.1
Weight Loss
Vinegar may help you lose weight by increasing satiety and reducing total amount of food consumed. The acetic acid suppresses your appetite, increases your metabolism, and reduces water retention.
In one study volunteers drank a small amount of vinegar along with a high-carb meal (a bagel and juice) then the rest of the day they ate less food.  The reduced calories amounted to about 200 to 275 calories per day – or approximately up to 1.5 pounds per month.2
Helps with sore throats
Apple cider vinegar has antibacterial properties so gargle with a mixture of 1/3 cup ACV mixed with warm water.
Acid Reflux typically results from having too little acid in your stomach. Improve the acid content of your stomach by taking one tablespoon of raw unfiltered apple cider vinegar in a large glass of water daily.

Upset stomach
If a bacterial infection is at the root of your diarrhea, apple cider vinegar helps thanks to its antibiotic properties.
Cures Hiccups
1 teaspoon of ACV is enough to stop hiccups asap.

[pro_ad_display_adzone id="8825″]
Deodorant
Apple cider vinegar helps kill odor-causing bacteria. Pour some ACV into a small spray bottle and spray underarms as a natural deodorant.
Cleaning Agents
Vinegar is one of the best cleaning agents around the home too. Acetic acid kills E. Coli while lemon juice and vinegar kill salmonella.
NOTE: Apple cider vinegar is not the same as Distilled white vinegar. The distilled vinegar is great for cleaning and laundry not for drinking.
Bone Broth
Vinegar is important for including in homemade bone broth. When it comes to making broth, the vinegar helps leech all those valuable minerals from the bones into the stockpot water.

Hair Rinse
Apple cider vinegar helps remove product build-up in your hair and balance your scalp's pH level. A weekly rinse of 1/3 cup of vinegar mixed with 4 cups of water will help to remove the build up of prays, gels, etc…. For dandruff, spray your scalp with equal parts vinegar and water (mixed), wrap a towel around your head, and leave it for an hour. Then, wash out and repeat up to twice a week.
There are many more benefits…you'll just have to Google them.
Keep going strong!
Your friends and coach,
Shaun
References:
 1 Diabetes Care. 2004 Jan;27(1):281-2.
2 J Am Diet Assoc. 2005 Dec;105(12):1939-42.