WARNING

: This may be "offensive"

You heard it right. I truly do "hate" New Year's.

Well – kind of. It's really a "love-hate" relationship.

And after 12+ years of teaching fat loss to thousands of people I've identified 4 valid reasons I absolutely despise New Year's.

I hate them ALL. Every. Single. Reason.

Why?

Because they all require some type of sacrifice.

And they also require consistent EFFORT and PLANNING. I know. NOT what we want to hear, but it's the harsh reality of the world that we live in.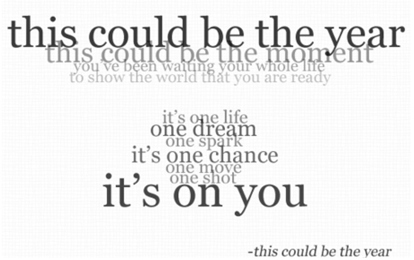 And if you want this to be your "best" year ever, it's on you.
So here they are. FOUR reasons I hate New Years.
Reason #1: You
HAVE

To Set MEANINGFUL Goals!

You'll never hit a bull's eye if you don't know what you're aiming at or what direction your headed.

Pretty much every single person that I've ever worked with has told me they want to "lose weight" and "tone up". But they never drill down deep, get to the heart of the matter, and set a specific goal that gets them excited enough to follow through.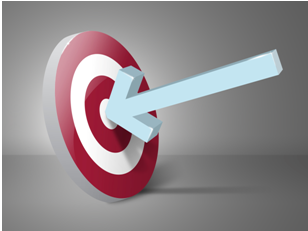 Abraham Lincoln once said: "A goal properly set is halfway reached."
I couldn't agree more. Especially when it comes to weight loss. The problem? Most people don't even know how to set goals properly, let alone achieve them.
Why should we even bother setting goals in the first place? Here are a few of the many reasons:
Goals serve as a road map for us to live by.
Goals give us a sense of purpose and fulfillment every day.
Goals are guaranteed to improve your overall quality of life.
There's a specific formula to use when structuring your goals. It's called the S.M.A.R.T. formula. If you've never learned about this formula, here's a quick overview of how it works:
Specific.

Break them down. When, where, what time, how much, etc.

Measurable.

You can't track if you don't consistently measure. Tracking and measuring equals consistent progress.

Action-oriented.

They're always based on some type of action.

Realistic.

You need to make sure you stretch and push yourself out of your comfort zone a little, but make sure you're not unrealistic. Otherwise you could self sabotage your goals. This is different for every person.

Time-bound.

(with a deadline) 1 year, quarterly, monthly, weekly, daily, etc
This is the same exact formula I use with all my premium fat loss coaching clients. We help you set specific, measurable goals and of course, deadlines to meet those goals.
We also track your results every single week just in case we need to re-evaluate and adjust your goals.
"You're either regressing or growing, nothing stands still – so block off some time now to set your goals!"
Reason #2: You HAVE To Find REAL Motivation!
One of the most powerful ways to get motivated and follow through is finding your big "why". Your reason "why" typically goes much deeper than something physical like, "I want to lose weight, feel better, and fit into my skinny jeans again."
It usually involves some type of emotional triggers; things like relationships, self esteem, or even serious health challenges. Most of you know my story by now, but for our new followers, it was my relationship with my daughter…
I wanted more than anything to actively be a father and consistently be a part of my daughter's life. In fact, it became the motivating factor that allowed me to be selected as a Grand Champion 1st Runner-up in the now famous Body for LIFE™ contest.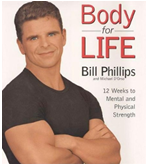 I ended up losing almost 20 pounds of fat while simultaneously gaining 5 pounds of lean calorie burning muscle in only 12 short weeks…all while cutting my exercise time in half.

Honestly, the physical transformation pales in comparison to what happen to every other area of my life. I'm happy to report my daughter is now 19 and we have an awesome relationship. This is the REAL reward.
It also serves as just a small example of what can happen to you when you're given the right motivation. Finding a powerful enough reason "why" is how you can easily break through exercise and nutrition procrastination.
You have to know "why" you want to reach your goal. If you don't, you'll never commit 100% and you'll will wimp out the second the going gets tough.
So ask yourself why is it so important for you to finally "tone up" and "lose weight". How is this going to improve the quality of your life?
How will you feel? How can you take all of the newly found confidence and energy to inspire your friends and family to do the same!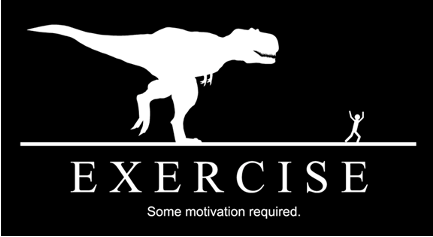 You don't have to reinvent the wheel or follow a crash diet. You just have to plug into a proven system and stay motivated enough to follow through.
"There are two ways to learn – Mistakes and Mentors. Following a mentor is much, much easier that the insanity of making the same ole' mistakes."
Reason #3: You
HAVE

To Follow A PROVEN Plan!

Sorry, showing up to the gym or getting on a treadmill isn't going to cut. It never has. You NEED strategy. Bummer – I know, but you can't just "show up" and expect a breakthrough. It's all about having a proven plan to follow.

So once you have your goals set and you're motivated, you have to follow a proven plan. It's not about reinventing the wheel. Just look at who has been successful and mimic their behaviors.

Simple. Not easy – but it truly can be simple.

One thing I learned years ago is that more is NOT better when it comes to exercise.

I recommend about 4 to 6 hours of exercise a week – max. That is only 3% of your time.

And if you knew you could invest 3% of your time to automatically increase the rewards and focus ten fold in every other area of your life, would you commit?

Of course you would! And if you can't commit 3% of your time to reaching your goals then you probably aren't ready to commit.

Next, you have to use a plan that addresses every aspect of fat loss.

Most folks will try to eat right, but skip the workouts. Other people exercise like a machine, but eat like crap. Still others will completely leave out strength training, which is one of the most important aspects of fat loss.

In other words, cardio/intervals, strength training, or nutrition all by themselves won't do diddly.

It's the SYNERGISTIC approach of using all 3 of these things consistently that really forces your body to feed on ugly body fat and allows you to build habits that last for 2012.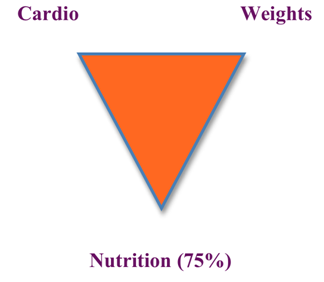 Always remember that nutrition will always give you the most bang for your buck (there are times, where nutrition can easily add up to a whopping 75% of your total results).
In other words, you also have to commit to changing your eating habits. SHOCKING – I know. 🙂
Sometimes when life gets hectic, you can slack a little bit on workouts, but you'll never see visible fat loss results unless you're consistent with nutrition.
"Half of getting what you want, is knowing what you have to give up to get it."
REASON #4: You
HAVE

To Use An Accountability System

In my 20+ year journey as both an entrepreneur and fitness expert, I have struggled with the balance between my passion for fitness and my desire to succeed in business and my personal life.

I've had times where I've failed miserably and I've had times where I've accomplished things I never thought were possible.

Soooooo…what was the difference between the successes and failures?
One word: ACCOUNTABILITY.

Everyone needs someone to be accountable to. It's one of the secrets of the fat loss journey!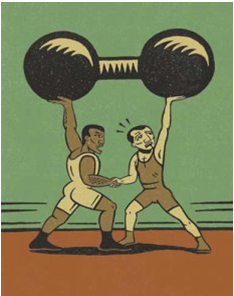 To illustrate my point, just look at the true definition of accountability and let it resonate for a minute.
ac•count•a•bil•i•ty
-noun
the state of being accountable, liable, or answerable.
REAL accountability is the key to taking your results to a new level and finding a healthy balance between your personal life, your business life, and a fat loss lifestyle.
In order for you to be successful in business, you have to hold yourself accountable to certain daily tasks and/or large projects.
When it comes to being a parent or a mate, we also hold ourselves accountable to spending time with our children and our significant others.
If you don't have accountability, your business and financial life will suffer right along with your relationships and family life.
The same is true with exercise, nutrition, and your health.
Most people fail with keeping the weight off because they lack an accountability system. One thing we highly recommend is letting everyone you know, (family, friends, co-workers) exactly what your goals are and WHEN you're going to reach them!
Be careful. There are few negative people in this world…and they move around a LOT. 😉
In other words, I recommend being very selective with whom you decide to share your goals. Invest your energy and time with people who support your goals.
This will definitely hold you accountable because every time you see them the first thing they are going to ask is how are you doing and have you reached your goal yet?
The Final Analysis
There will never be a perfect time in your life to begin developing fat loss and fitness habits, but New Years is sometimes a painful reminder of the sacrifices necessary to make 2012 your best year ever.
The best thing you can do is seek and find an accountability system that best fits your personality.
I have all kinds of unique tricks and techniques to accelerate your rate of fat loss – BUT…the best one is the one that you're willing to make a commitment to and be consistent with.
Most programs and diets out there will get you at least some results, if you stick to them.
If you've followed our blog for any amount of time you probably know by now that our workouts are unique, fun, and based on science, but if you don't commit and stay consistent they will only take you so far.
Anybody can find a nutrition plan to follow and a workout to do.
The real secret is to find a place where they motivate you, inspire you and help you become the best you that you can be.
Everyday I wake up with this one goal in mind.
There's a bazillion ways to skin the cat. After you follow the steps above, it's all about EFFORT and how much you are willing to give of yourself!
Maybe you can do this on your own. But I can tell you from experience it's way more fun with the support of people who care along with a proven system to follow.
And once you make the decision, your goal is already achieved! It just hasn't arrived yet!
Getting the body you want and the healthy lifestyle you desire is more important than ever in today's busy world of information overload. It's the ability to figure out what's going to get you to your goals fastest – and then learning how to say "no" to all the other scams and quick fixes.
Always remember: "There is no gain without pain." (Benjamin Franklin)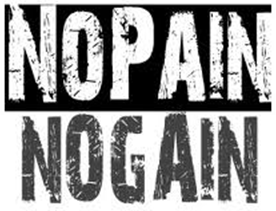 It isn't just about having a plan…it's about following through.
And this stuff works on every person who decides to take action.
I call these people 3%ers. Who are the 3%ers? People who follow the 4 steps above and actually get off their lazy you-know-what and do something.
But sometimes it hurts because you have to delay selfish gratification. I wish I could tell you it was easy. That it works OVER NIGHT.
Or…that you could just "pop a pill".
Or you could eat pizza and ice cream all day. Ya, that's what I wish I could invent; "The Hamburger and Ice Cream Diet".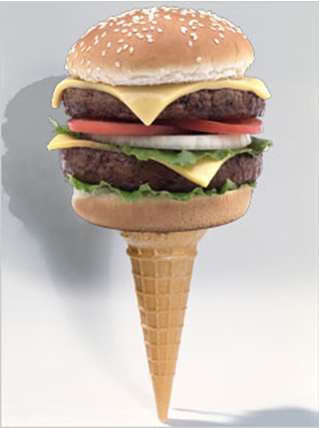 No planning. No work. No sweat. Easy-Cheesy.
That's why I HATE New Year's.
Because whether it's your body, your health, or ANY area of your life – "easy" doesn't exist.
And it never will.
And because you and I both know that it's impossible to get the body of your dreams without effort AND the right strategy, it's mandatory to take an "inside out" approach.
Happy New Year!
Your friend and coach,
Shaun