If you're like me, you likely can relate to the continual struggle against checking your personal email, text messages, or Facebook while you're exercising, working, or spending quality time with family and friends.
Did you know that we are now bombarded with more information in ONE single day than our previous ancestors received in their entire lifetimes?!?
The numbers prove it's happening WAY more than we realize: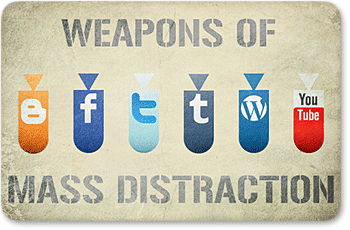 – Workers who use computers during the day check email nearly 37 times an hour. Wow! 
– Average workers are interrupted, on average, every 11 minutes and spend a third of their day recovering from distractions (mostly related to technology).
– Workers lose 28% of an average workday due to multitasking ineffectiveness.
– Research performed by Rutgers University shows millions of users are now unable to go more than five minutes without checking their smartphones.
– Computer multitaskers experience a burst of dopamine-that can be addictive… just like a hardcore street drug.
Distractions are worse than being stoned?!? 

In 2005, a psychiatrist at King's College in London administered IQ tests to three groups:
The first group did nothing but perform the IQ test…
The second group was distracted by e-mail and a ringing phone…
The third group was stoned on marijuana…
Not surprisingly, the first group did better than the other two by an average of 10 points.
However, the e-mailers, on the other hand, did WORSE than the stoners by an average of 6 points!
I can relate to all of this from first-hand experience because I'm guilty of the technology trap—it's my secret addiction.

Smartphones, text messaging, laptops and emails are how I run my business and feed my family, so I'm constantly fighting against a lack of focus on a daily basis.
YES, technology has its place.
Otherwise you wouldn't be reading my blog right now! 🙂
However, it can be a double-edged sword.
LISTEN: I know you've probably been hammered with a gazillion different ways to skin the fat-loss cat over the last year… so have I.
But if you follow my simple "6-3-2 Law of Leanness" below you can easily AVOID broken focus.
It's 6 words…Followed by 3 words… Followed by 2 words…
 Do one thing at a time…
 Do it right…
 Finish it…
Just following this one simple law will increase your productivity, improve the quality of your relationships, while eliminating broken focus from your fitness plan (and your life).
I'll end today's rant with a bunch of quotes that drives this point straight home:
"The shorter way to do many things is to do only one thing at a time." Mozart
"Often he who does too much does too little." Italian Proverb
"The successful warrior is the average man, with laser-like focus." Bruce Lee 
"If you chase two rabbits, both will escape." Anonymous
What about you?
Are you plan-hopping and multitasking?
Are you focused on ONE thing at a time?
Or, are you constantly feeling distracted?
If you are, make sure you check out:
Wholetones: The Healing Frequency Music Project
It's something I've been using every day to eliminate distractions, and it's probably the best mood enhancer I've ever used.
In fact, I'm listening to the Energy, Health and Well-Being right now while I'm writing this and I'm loving it.
You'll probably even FEEL the energy within a few seconds of hearing it like I just did.
It's VERY cool stuff that's helping people sleep better, ease chronic pain, while increasing energy, well-being, and focus.
Wholetones: The Healing Frequency Music Project
Always have an open mind and keep going strong.
Your friend and coach,
Shaun