Easter baskets, chocolate bunnies, painted eggs. It's what the Easter holiday is all about—right?
Even though I grew up loving all these traditional Easter holiday memories… and there's absolutely nothing wrong
with celebrating this way…
… It's really NOT what this holiday is all about.
And whether you're a believer in God or not, there's a powerful lesson to be learned this weekend (and celebrated) for what Jesus did for us.
You see: it wasn't spikes that held Jesus to the cross. It was his conviction.
Jesus knew it was necessary that he BECOME SIN. That he who is pure become OUR sin.
That's why the wrath of God was poured down, not upon us, but upon the creator himself during the crucifixion.
When the one who NEVER sinned became sin for us, God didn't call down his army of angels to save him.
NOPE.
Because he knew he would rather give up his Son than to give up on you and me.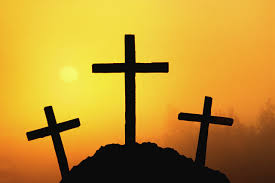 And that's what the Easter holiday is really about.
FORGIVENESS.
In fact, studies show that people who forgive are happier and healthier than those who hold onto resentment and anger.
STUDY #1: Showed that forgiveness improves cardiovascular and nervous system function. ("Campaign for Forgiveness Research" 2006)
STUDY #2: Showed forgiving people suffer from LESS illness and people who hold onto resentment have more health problems. (University of Wisconsin)
STUDY #3: Showed people who are taught how to forgive become LESS angry, feel LESS hurt, are MORE optimistic.
Additionally, people who become more forgiving are more compassionate and self-confident.
They also experience LESS stress along with an increase in vitality. (Stanford University)
– Regardless of what you have done, or what others have done to hurt you, it's not too late.
– Regardless of your beliefs, or how far you've fallen, it's not too late.
It doesn't matter how low or evil the mistake or wrong doing is, it's not too late to dig down, pull out that resentment you're holding onto…
… Or that big mistake you've made that you just can't seem to forgive yourself for, and LET IT GO to be FREE.
What sets us free to get our best body and maximize our potential in life is not perfection.
It's forgiveness.
[pro_ad_display_adzone id="8825″]
Now you can probably see how Easter can increase your health and fat loss.
It's the holiday that shows you how to forgive… and to be forgiven.
Simply put:
 – The first to apologize is the bravest.
– The first to forgive is the strongest.
– And the first to forget is the happiest.
Happy Easter!!!
Shaun "forgiven" Hadsall