If you wake up in a foul mood and say, "Mondays! I hate Mondays. Mondays are the worst."
And you take that attitude to work or home to your family, guess what?
You're going to have interactions that you hate all day long… 
And you'll be convinced: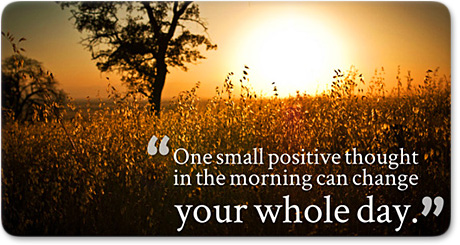 "See, I told you. This is how Mondays always are."
But another person wakes up and says, "Hot diggity! It's Monday! Another new week—let's go!"
And when you bring that type of energy into your world you'll have fantastic interactions and opportunities all day long. 
In other words, we all have the power to create our realities. 
So… is your glass half full… or half empty?
Researchers have determined that positive thinking may provide the following benefits:
•    Increased life span
•    Lower rates of depression
•    Lower levels of distress
•    Stronger immune system
•    Better mental and physical health
•    Reduced risk of heart disease
•    Better coping skills and stress management
Whenever my wife Karen makes a negative comment about herself, I always reply with my famous quote… 
"Hunny, be careful what you say; YOURSELF is always listening."  
Positive thinking starts with self-talk every day when you wake up.
It's the conversation you have daily inside your own head that will ultimately determine whether or not the experiences you have are negative or positive.    
– Negative thoughts = pessimism = negative experiences…
+ Positive thoughts = optimism = positive experiences… 
University research performed across the country has shown that that pessimists make a mess of their lives.
[pro_ad_display_adzone id="8825″]
More bad things happen to them like broken relationships, family problems, poor health, and even failure at school. 
And it's a downward spiral because having negative experiences just leads to MORE pessimism and invites MORE trouble.
However, when you give out positive energy to the world, by focusing on having an attitude of gratitude and always seeing the glass as half FULL, rather than half EMPTY… 
– You'll automatically attract more positive experiences into your life.
– You'll live longer.
– You'll lose more weight.
– You'll have stronger, deeper relationships. 
Simply put, you'll have a better life.
This is why I have a morning ritual of reading my goals cards and positive affirmations every day after I exercise.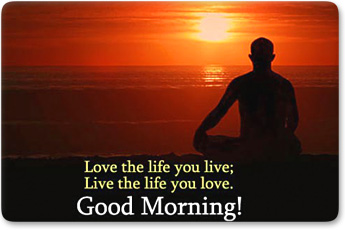 If I skip this ritual, my day seems scattered and I'm often irritated by petty stuff.
But if I take just 5 to 10 minutes to complete this daily ritual, I set up my day for success. 
So always remember, you have two choices in life: 
Choice #1: The P.L.O.M. path, which stands for Poor Little Ole' Me.
OR…
Choice #2:  The P.M.A. path, which stands for Positive Mental Attitude. 
So why not stack the deck in your favor? 
Stay positive.
It's not a cure for all of life's problems…but it is a choice.
Keep going strong.
Your friend and coach,
Shaun "PMA" Hadsall
GL12 Wisdom of the Day:
"A positive attitude causes a chain reaction of positive thoughts, events, and outcomes. It is a catalyst and it sparks extraordinary results." (Wade Boggs)