Do YOU Have The Need For Speed?
A growing body of evidence and real-world results from our members and clients show that the benefits of our high-speed workouts extend far beyond our cardiovascular system and muscles – to our biochemistry and even our brain.
Here are 5 very powerful reasons to use Get Lean In 12 workouts to go fast on a regular basis.
1-    GL12 workouts change your hormones.
Several key studies indicate that a series of 20 to 30 second sprints sharply increased HGH (human growth hormone) in the body while exercising – and also for roughly 2 hours AFTER a workout.
Once the Get Lean In 12 HGH is released, it will target body fat like a wood burning furnace.
How do you know if you're going hard enough to produce fat-blasting HGH levels?
Here are some guidelines:

lack of oxygen and feeling out of breath (duh!)
muscle burn (lactic acid overload)
increase in body temp or breaking a serious sweat
you must "feel the pain" (also known as adrenal response).
We've seen many students and members lose up to 20 pounds in eight weeks using Get Lean In 12 intervals/sprints.
2-    GL12 gets you fitter, faster.
Although Get Lean In 12 intervals are only part of a well-balanced fitness program and the results sometimes sound to good to be true…they are THE most important part of your regimen if you want quick results.
Researchers from 2 published journals found that GL12 sprinting for 20 to 30 seconds performed 3 times a week for 20 minutes or less produced the same results as 3 endurance (the slow boring stuff) cycling sessions, each of which lasted 90 minutes to 2 hours.
Yikes. Now that's what we call a great R.O.I. (Return On Investment)
In other words, just one hour of Get Lean In 12 produced what would take up to 6 hours of the normal, boring, textbook, target heart rate cardio.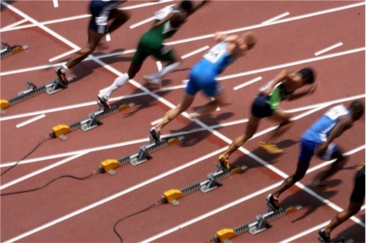 Also, after just 2 weeks, or six total GL12 workouts, subjects increased their endurance by 100% and they began using oxygen more efficiently to burn fuels.
This explains why sprinters are so lean and muscular. They automatically preserve muscle and burn more fat because of their training protocol.
Caution: the decision to go all out and push yourself to these limits should be cleared by your doctor first. It's a process and a journey – NOT an event.
3-    Adding GL12 intensity to your regimen will burn more calories-especially fat calories.
Although traditional, low-intensity, target heart rate exercise gets a lot of publicity…sprint – speed type workouts actually deliver better, overall fat-loss results.
Here's why: although you can maintain lower intensity workouts for longer periods of time (1 hour or more) and it allows you to supposedly burn a greater percentage of fat calories (as opposed to carbs or stored glycogen)…minute for minute, the slow stuff burns substantially fewer total calories, therefore fewer fat calories as well.
All this indicates is that adding GL12 intervals to your fitness program also conditions your body to burn more fat during moderate-intensity exercise, as well.
In fact, subjects who engaged in these types of workouts increased the amount of fat they burned 36% more than those who engaged in moderate intensity exercise. It's because GL12 workouts produce more mitochondria (you body's cellular fat-burning powerhouse).
Lastly, GL12 activates more fast-twitch fibers, which is something that does NOT happen with the slow, boring cardio workouts.
4-    Research shows GL12 workouts fuel your mind and might make you smarter.
Performing Get Lean In 12 workouts is the catalyst for your brain to produce more dopamine and serotonin. These are brain transmitters that reduce stress during exercise and other activities.
There is also some evidence suggesting that GL-12 can increase the amount of Catecholamine your brain produces. These are neurotransmitters found in the amino acid tyrosine which help the body stay sharp during prolonged periods of work, sleep deprivation, and other stressful situations….like life itself!
In other words, when you "Get Lean In 12" you won't feel lethargic after lunch anymore. Is this the perfect synergy between the brain and the body? Quite possibly – yes.
5-    GL12 will put a spring in your step.
Have you ever noticed how kids have non-stop energy, can go alllllll day long without stopping and the last thing they want to do is sleep? We always say, "I wish I still had energy like that, where do they get it?"
I'll tell you where. Just watch em run around like they have the 'need for speed' in their everyday activities. Their bodies are loaded with hormones that your body could be suppressing from traditional, outdated, boring methods.
We all start to lose that drive by the time we hit our 20s and it just gets worse as we age.
Get Lean In 12 workouts 3 to 5 times a week will create new confidence and an appreciation for the spectacular engine that God had given us called our body.
Your body is supposed to have its engine revved up on weekly basis…so put a GL-12 spring in your step today.
Conclusion
So, if you have an interest in producing more fat-burning HGH (human growth hormone), cutting your exercise time in half, burning more fat calories while you go about your everyday activities, cultivating a sharper mind and more mental energy, and having the energy of a 5 year old…then what are you waiting for?
Get Lean In 12 today.
If you think you'll get bored of the sprinting or you have limitations, just change it up.
You can use GL-12 bursts to do dozens of different exercises; mountain climbers, jump rope, standing jump-squats, squat thrusts, high-step sprints…you get the idea.
Don't be afraid to change it up. Variety is a spice of life.
Make sure you hit the "like" button below so we can continue to help more people like you. We also need your comments below. This is how we can serve you better and help you achieve your goals.
Your fat burning friends and advisors,
Shaun and Karen
P.S. If you're interested in exact video instructions of how to put this powerful workout to the test on your body (along with instant workout chart downloads) just head over to www.LeanForLifeCoaching.com right now and learn more.
We show you exactly how to create a unique and fun fat burning lifestyle. How will your life be any different if you're not willing to take action?
P.P.S. What are you waiting for? It's either the pain of discipline OR the pain of regret.
Is this really your fat burning solution?
Yes ===> End your fat loss frustration once and for all <=== Click here