The Eight Traits of All Successful People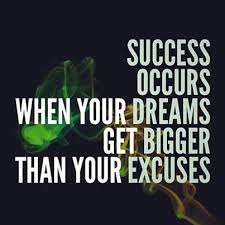 Way back when I graduated from Birch Run High School (the backwoods of Northern Michigan) in 1989, I wasn't a great athlete and I was never voted most likely to succeed- that's for sure.
In fact, by the time I was 28 years old, I could have created a whole new category: 

Most likely to FAIL. I had hopped around from job to job trying to find fulfillment and success. Before I finally found my passion of helping people with health and fitness I was a farmer, a college dropout, a cell phone salesman, a pipefitter, an ironworker, a waiter, and a cook.
Although there's absolutely nothing wrong with any of these career paths, it never "filled my bucket" or gave me passion and purpose. But I never gave up on my body… and I never gave up on success. As Woodrow Wilson said, "Success consists of going from failure to failure without loss of enthusiasm."
But what REALLY leads to a successful body transformation, or any successful endeavor in life?
According to author and speaker Richard St. John, after 10 years of research, over 500 face to face interviews with successful people, and 1,000s of written success stories
from all walks of life… there are 8 traits all successful people have in common.
He calls them, "The 8 To Be Great".
Ironically, EVERY one of these 8 traits is also necessary for making a permanent and lasting change to your body as well.
Here they are:
Love what you do.
Work really hard.
Focus on ONE thing not everything.
Keep pushing yourself.
Continuously learn new things and come up with good ideas.
Keep improving yourself and what you do.
Serve others and add value to their life.
Persist (there is never overnight success).
Now let's break them down so you can apply these proven success traits to your health and fitness plan.
 #1 PASSION:
Love what you do
Successful people do what they love because they love it not because of the money. The secret is that the money comes anyway when they do what you love.
When it comes to exercise passion: exercising and eating healthy is a journey of self-discovery, NOT an event.
But it's usually a love-hate relationship.
We love how it makes us look and feel… but we hate having to motivate ourselves to exercise and give up our favorite foods.
I'm passionate about being a positive role model for others and walking my talk as a fitness professional. This is how I stay consistent. I don't want to let my family down or disappoint you, so it drives me to exercise and eat right—even when I don't feel like it.
What about you?
If you don't know what it is, search for it until you find it. This will increase your consistency in a big way.
#2 WORK:
Work really hard

You probably know by now that nothing worthwhile in your life will come easy.
There's no easy way to transform your body and there's no magic bullets or shortcuts. 
Whether it's your body, your family, your relationships, or your career.
All roads that lead to success have to pass through hard work boulevard at some point.
If you want to look great, feel great, and be great, you're going to have to work really hard at it. Most successful people have fun while working hard. Period.
 #3 FOCUS:
Focus on ONE thing not everything

There are a thousand ways to skin the health and fitness cat.
 If you're chasing two rabbits, you'll NEVER catch one. Find a nutrition and exercise plan that you like (and can adhere to) and STICK TO IT. 
Many people dabble not focus…you must focus on ONE thing.
#4 PUSH:
Keep pushing yourself
Successful people push themselves through self-doubt.
Whether it's nutrition or exercise, you have to continuously push yourself out of your comfort zone if you want success.
– Push yourself to say "NO" to cheat foods when you're tempted.
– Push yourself on every exercise.
– If your goal is 10 reps, push yourself to get 12.
– If your goal is to do 20 minutes of cardio, push yourself to do 30 minutes.
And when you slack off, who cares. Get back up tomorrow, start over, and KEEP pushing yourself.
#5 IDEAS:
Continuously learn and come up with good ideas
Although I highly recommend you stick to one diet and fitness plan at a time, it's also vitally important that you keep learning new diet and exercise techniques that will prevent boredom and burnout.
– Learn new exercises.
– Change up your routine every 8 to 16 weeks.
– Change up your environments to keep your body and mind stimulated.
This is how you'll stay consistent with your plan and keep it interesting without losing motivation or burning out.
Come up with ONE great idea! It's all about creativity. We're all creative…there's no magic coming up with creative ideas.
#6 IMPROVE:
You're either growing or regressing
NOTHING stands still.
– Constantly strive to improve your diet.
– Consistently strive to improve your performance.
And NEVER give up on creating a better YOU.
We all fail. We all fall.
But those who get back up, brush off their failures, and continue to improve are the ones who become successful.
How do we improve? This can be summed up in three words:
[pro_ad_display_adzone id="8825″]
#7 SERVE:
Serve others and add value to their life
I know that the secret to getting everything I want out of life is to help other people get what they want.
Use your health and fitness goals as a vehicle to inspire your friends, your family, your kids, you co-workers… and share your newfound knowledge with them.
Helping others come along on the ride with you is HALF of the reward of body transformation.
Serving others is how people get rich. Look at all major millionaires they are all servants.
 #8 PERSIST:
Persistence (there is never overnight success)
Persistence if by far the most important trait of successful people.
I'm sure you're well aware by now that if you're not persistent with your diet and exercise, you don't reap the rewards. 
This means you have to be willing to stay consistent in spite of difficulty or opposition.
– We all fall on hard times.
– Bad things will happen in our lives.
– People we love will die or get sick.
But we still need to make our best effort to stay persistent regardless of our circumstances.
ANYBODY can be successful.
It's simply a matter of applying these 8 strategies to your life.
I want to give a special shout out and "thank you" to Richard St. John for inspiring me to write this piece.
If you'd like to take the 8 Traits To Be Great to the next level, grab his book or check out his website www.8tobegreat.com
There's lots of info to keep your train on the tracks.
Look at these 8 traits EVERY day to keep your health and fitness on the fast track (or use it for any areas of your life).
Shaun