I always see every change in the seasons as a reason to re-evaluate my life to see where I can improve. Now that summer is over, here's a little piece I was inspired to write about what we believe in and stand for. If you read this and it doesn't resonate with you in some form or fashion then unfortunately, you're most likely NOT a good fit for our community.
1) We believe in the Law of Personal Responsibility.

Our philosophy is: "If it is to be, it's up to me."
It doesn't matter how old you are, or what your current circumstances are – our goal is to help get you where you want to be physically and mentally as fast as possible.
We all have different backgrounds, upbringings, genetics, limitations, family and business obligations, and other commitments. We all have to play the hand of cards we've been dealt.
We believe in taking personal responsibility for our current circumstances, maintaining a positive attitude, and we are committed to making consistent progress by supporting each other.
2) We believe that every day counts.
We believe that each day you're either regressing or growing—nothing in our life stands still. We believe that continuous learning, knowledge, and wisdom is our #1 asset in life.
Some days will be better than others, but we believe in learning every day and taking baby steps over time leads to breakthroughs with our body and life.
3) We believe in setting goals.
We believe people with goals succeed because they know where they're going. Failures, on the other hand, believe that their lives are shaped by circumstances … by things that happen to them … by exterior forces.
We believe the person who has no goal, who doesn't know where they're going, and whose thoughts must therefore be thoughts of confusion, anxiety, fear, and worry will thereby create a life of frustration, fear, anxiety and worry.
We believe that our thoughts become our words, our words become our actions, our actions become our habits, our habits become our character, and our character becomes our destiny.
We believe in the best possible outcome no matter what the circumstances because we think in terms of positive expectations and results.
4) We believe that you become the sum of the 5 people you hang out with the most.
We believe that if you hang out with like-minded people who support your goals, you'll achieve them MUCH faster… if you hang out with overweight, unmotivated, negative people… you'll eventually become overweight, unmotivated and negative.
5) We believe in finding your big reason why.
We believe that finding ONE underlying reason that's "bigger" than ourselves will move us forward every day and keep us focused for the long haul. For us, it's our children and grandchildren.
We know that our health and fat-loss goals SERVE every other area of our life. We believe it makes us better Christians, parents, grandparents, spouses, and people.
We believe that focusing on our Big Reason WHY every day will motivate us to follow through.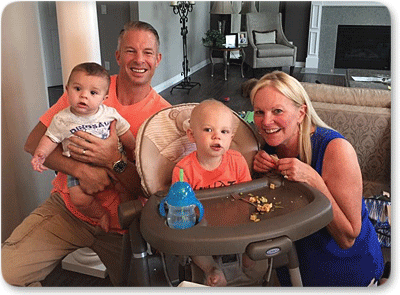 Karen and I with our grandsons, Owen (left) and Leo (right). OUR reason WHY.
6) We believe in the Law of Giver's Gain, which states:
"The secret to getting everything we want in life is helping other people get what they want by performing random acts of coolness and kindness."
We believe the body we want, the health we want, all the material things we desire, the relationships we long for, and the LIFE WE WANT is hidden inside this law.
We believe you reap what you sow, and the greatest exercise we can perform is reaching down and lifting SOMEBODY ELSE up.
7) We believe in the Law of 6-3-2.
We believe that even though there are a 100+ different ways to skin the fat loss cat we need to stick with ONE plan at a time. We believe that if you try to chase two rabbits you'll never catch one.
We believe in the Law of 6-3-2, which states six words… followed by three words… followed by two words.
Do one plan at a time (6). Do it right (3). Finish it (2).
8) We believe that "abs are made in the kitchen."
We understand that you can't out train a bad diet. We realize that everything that goes into our mouth is either taking us closer to or further away from our goals because at least 75% of our fitness results come from our diet (whether we make the choice to eat healthy or not).
9) We believe in the Law of Consistency.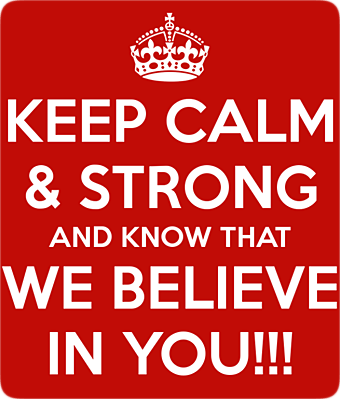 We're not looking for the next pill-popping, zero effort quick fix or trying to help people who aren't interested in building fitness habits that last. Our community is all about striving for consistency NOT perfection—because there's no such thing as perfection when it comes to your body and health.
We know there will NEVER be a perfect time in our life to get healthy and start a fitness plan. That's why the right time is always NOW. Remember, the journey IS the destination.
10) We believe in YOU.
We believe that without you, we have nothing. We are here to serve you… to help you… to add value to your life… and to help you solve your problems—period.
We believe that by helping you achieve your goals—we'll achieve ours.
And THAT'S what we believe.
Our hope and prayer is that you believe in us.
Keep going strong.
Your friend and coach,
Shaun