I know you've probably been hammered with a gazillion different ways to skin the fat-loss cat over the last year. But without applying this ONE fat loss rule you'll  NEVER succeed.
In fact, as you'll discover below, this simple rule  helped me overcome my secret "addiction".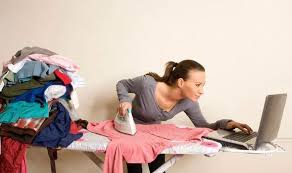 I call it…
"The 6-3-2 Law of Leanness"
It's 6 words…
Followed by 3 words…
Followed by 2 words…
Do one thing at a time…
Do it right…
Finish it…
I promise that if you will just apply this simple law to every fat-loss plan you follow, or ANY area of your life, not only will you double your results…
You'll enjoy your fitness journey a hundredfold of what you do now. If you hop from plan to plan or try to apply every thing I teach you all at once, you'll just get overwhelmed, confused, and frustrated.  So whether it's a two week plan or a twelve week plan, stick to it until it's finished. Yes, there may be exceptions to this rule at certain times, like a special event, a vacation, or an unexpected deadline, but plan hoppers NEVER succeed.
Technology is the perfect example. We are now bombarded with more information and choices in one single day than our previous ancestors received in an entire lifetime. And research now proves that we're all becoming addicted to "snacking" on technology. Even worse, it could be indirectly destroying your fat-loss goals, your productivity, and even the quality of your relationships.
The numbers prove it:
Workers who use computers during the day check emails nearly 37 times an hour!
Average workers are interrupted, on average, every 11 minutes and spend a third of their day recovering from distractions (mostly related to technology). Workers lose 28% of an average workday due to multitasking ineffectiveness. Research performed by Rutgers University shows millions of users are now unable to go more than five minutes without checking their smart phones.
Computer multitaskers experience a burst of dopamine- that can be addictive…just like a hard-core street drug. More than one in four (26%) say they can't go more than two to three days without checking email, and they check it everywhere:
In bed – 23%
In class – 12%
In business meetings – 8%
At the beach or pool – 6%
In the bathroom – 4%
While driving – 4%
In church – 1%
In 2005, a psychiatrist at King's College in London administered IQ tests to three groups: the first did nothing but perform the IQ test, the second was distracted by e-mail and ringing phones, and the third was stoned on marijuana.  Not surprisingly, the first group did better than the other two by an average of 10 points. The e-mailers, on the other hands, did worse than the stoners by an average of 6 points.
I think all these stats sum it up.  Multi-tasking on ANYTHING is like driving from where I live here in Michigan all the way to Florida, but stopping by California on the way.
Multi-Tasking = Screwing Up Several Things at Once
It's NOT efficient. I can relate to all of this from firsthand experience because I'm guilty of the technology.  Smart phones, text message, laptops, and emails  are how I run my business and feed my family, so I'm constantly going through the 6-3-2 battle on a daily basis. That's why my wife and I make sure to block off one night a week and have a date night with NO technology allowed.  The smart phones get turned on silent and go into Karen's purse.  
My job:  LISTEN.
NO business. NO kids. NO finances. NO technology. YES, technology has its place. Otherwise you wouldn't be reading my newsletters. 🙂
However, it can be a double-edged sword. Plus, don't your family, friends, and loved ones deserve your undivided attention.
Do ONE thing at a time. Do it RIGHT. FINISH it.
And I just finished this post.
Keep going strong.
Your friend and coach,
Shaun