Do you remember when Curly, the gritty cowboy played by Jack Palance in the movie City Slickers, told city boy Mitch (Billy Crystal) the secret to life?
Curly: "Do you know what the secret to life is?"
Mitch: "No. What?"
Curly: "This. (He holds up one finger like you see below)."
Mitch: "Your finger?"
Curly: "One thing. Just ONE thing. You stick to that and everything else don't mean sh*t."
Mitch: "That's great, but what's the "one thing?"
Curly: "That's what you've got to figure out."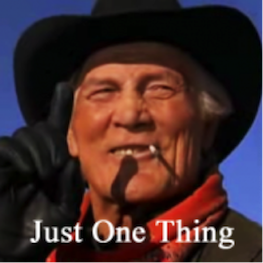 Words spoken have never been truer than in today's day and age.
Even though technology has created what seems like endless opportunities and possibilities, according to the book, The ONE Thing by Gary Keller,
we are now bombarded with more choices and information in ONE day than are ancestors were exposed to in their entire lifetimes.  
His solution is simple but not easy: Focus on ONE thing.
Remember, if you chase two rabbits, both will escape (Russian Proverb).
Start out each day by asking, "What's the ONE Thing I can do today for [insert whatever area you desire] such by
doing it everything else well be easier or even unnecessary."
FOR YOUR PHYSICAL HEALTH…
What's the ONE thing you can do to achieve your diet goals for today?
What's the ONE thing you can do to ensure that you exercise today?
What's the ONE thing you can do to relieve your stress levels today?
When you do this, your actions will become clear. Crystal clear.

And remember my #1 law of leanness… The Law of 6-3-2.
It's six words, followed by three words, followed by two words:
Do ONE thing at a time—Do it RIGHT—Finish it.
[pro_ad_display_adzone id="8825″]
Don't forget to apply this technique to all areas of your life: your spiritual life, your finances, your family, relationships, business/career, and personal growth.
If I'm trying to listen to my wife while I'm checking email, browsing the Internet, or hanging out on Facebook…
The only thing that gets accomplished is her getting irritated with me because I'm not giving her the undivided one-on-one attention she deserves.
That's why the true definition of multi-tasking is screwing up several things at once. 🙂
Shaun