Use This "Magic" Formula To Make Fat Disappear…
Abraham Lincoln once said: "A goal properly set is halfway reached."

I couldn't agree more. Especially when it comes to weight loss. The problem? Most people don't even know how to set goals properly, let alone achieve them.
Before we give you the "magic" formula and some killer tips on how to set and achieve goals, I think it's super important to ask ourselves:
"Why should we even set goals in the first place?"
Here are a few of the many reasons:
1. Goals serve as a target or road map (we like to call it a treasure map).
2. Goals give us a sense of purpose.
3. Goals are guaranteed to improve your overall quality of life.
I think you would probably agree that these reasons are powerful enough to pay attention to the rest of this post.
Ok, now that we know "why" we all need to set goals, let's talk about a few action steps and goal basics to help you identify "how" to set them.
Here are a few action steps to help you. Write down on a sheet of paper the following: 
What exactly do you want and desire in life?
What do you want to be?
What do you want to do?
What do you want to have?
What body do you want?
What size clothes do you want to wear?
Once you've done this, you'll have an awesome foundation to structure your goals. Don't skip this step! We're gonna "Get S.M.A.R.T." with your goals in a second, but first let's go over a few goal basics.
First, you must own them. What the heck does the mean? It means your goals must be:
Designed by you
What you desire and want
Your definition of success
This is about YOU, not what somebody else wants for you.
Second, they must be meaningful. Some examples:

What's important to you?
What's the ultimate purpose?
What are the immediate and long term rewards?
What sacrifices am I willing to make for this?
What causes me to be emotional?
Must be exciting and make you feel energized when you think about it…
Must be balanced (fat loss AND other areas of your life too)…
Must be aligned with your values and your passions…
Must be prioritized…
Must be flexible…
Make have immediate and long term gratification from them. In other words, make sure you see the forest, not just the trees…
Third, they must be FEW in number.

Productivity studies show that you really can't focus on more than 5-7 goals at any one time (stick with just 5 to start with if you can).
Focus on a handful of goals that you can almost repeat from memory after reviewing them for a month or so.
Set goals in areas that will give you the most reward for your effort.

HINT

: Fat Loss always improves every area of life!
Ok, time to "GET S.M.A.R.T." so you can get laser focused on your goals.
Here's the "magic" formula on how to structure your goals. It's called the S.M.A.R.T. formula. Here's how it works:

Specific.

Break them down. When, where, what time, how many, etc.

Measurable.

You can't track if you don't consistently measure. Tracking and measuring equals consistent progress.

Action-oriented.

Based on Action. Always use a verb (e.g., "Achieve," "Finish," "Eat", "Exercise," "Complete," etc.)

Realistic

. You need to make sure you stretch and push yourself, but don't create disappointment or a lack of balance by being unrealistic. This is different for every person.

Time-bound

. (with a deadline) 5 year, 1 year, quarterly, monthly, weekly, daily, etc.
Now that you know how to set S.M.A.R.T. goals, let's give you a detailed goals action plan.
1. Pick one area of your life, preferably fat loss, but ANY area will work.
Health, Fitness, and Fat Loss
Family and Relationships
Career, Hobbies, or Passion
Personal Growth
Spirituality
Love Life or Marriage
Money and Finance
2. You HAVE to write them down.  We recommend hand written goals. Study after study shows you're more likely to remember and apply things that you write down. Write 3 to 5 goals based on the criteria above. Here's a great approach to start with…

6 month
1 month
Weekly
Daily
When you break your goals down like this, you give yourself small steps. This allows you to achieve your goals in a realistic and progressive manner.
3. Read your goals aloud to yourself at least one time a week. Daily if you're anal like me. 🙂 Keep your goals visibly in front of you somewhere you'll see them everyday. Out of sight = out of mind.
4. Visualize the goal already achieved in your head when you say it. This is BIG. Your mind doesn't know the difference between what you visualize and what you actually see, so focus on seeing the goal achieved. This is probably the most powerful aspect of goals setting. If you struggle with visualization, find some pictures you can look at to help you see the goal already achieved.
5. Use an affirmation statement by re-stating the goal in present or past tense as if it were already achieved.
Example: "I, Jane Smith have finally been able to fit into my size 6 jeans for over a year straight now!" Probably not a good idea to do this in a large crowd…could lead to some embarrassment…haha, so make sure you're all alone with no distractions.
6. Take action! If you don't act on your goal after using these 5 steps, you're obviously just wasting your time and energy.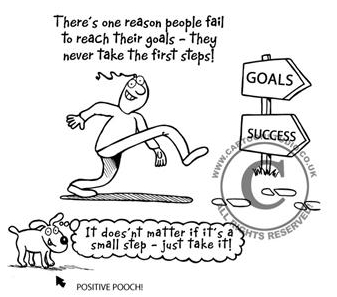 There you have it!
A COMPLETE lesson and action plan on how you can set and achieve ANY goal in ANY area of your life. The rest is up to you. We can lead a horse to water, but we can't make em drink! I know it's an old cliché, but it's sooooo true.
I hope you like reading this post as much as I enjoyed writing it for you. It was really fun and it was a great refresher course for me too!
If you have a question and you liked this post, let us know by leaving a comment below. If we get at least 20 comments, I'll be back early next week to help you take this to the next level with some super powerful and unique time management techniques for fat loss.  BUT, we need your comments!
Thanks! Your fat burning friend and coach,
Shaun