Relationships:
I want to warn you right up front that I'm gonna get a little deep in this newsletter.
You see, even though we celebrated Father's Day a few  Sundays ago, I've felt compelled to share this message all week because family is something that's near and dear to my heart.
And even if you're not close to your Dad, or maybe you don't even have a Dad…or you're not really a "family man…"
…I'm confident you'll still appreciate and be inspired by what I have to say.
And since I'm pretty sure you read this newsletter to stay lean and healthy, you should know that today's subject matter uncovers some very powerful emotional triggers
that can drive us to exercise and eat right – and ultimately be our best.
I'm talking about relationships. Just think about it:
Without relationships and loved ones we would have nothing.
No matter how many BSOs (bright shiny objects) we try to accumulate in our life, without someone to enjoy them with it would all mean NOTHING.
In a world that seems to move so quickly, there's always a need (no matter how young or old we are) for solid, authentic relationships that we can rely on.
It's just human nature.
We all have a deep desire for someone to be there for us.
– Someone to listen to us…
– Someone to be proud of us when we accomplish something worthwhile…
– Someone who picks us up when we fall down…
In fact, our natural need for healthy relationships can be one of the most powerful ways to get and STAY motivated enough to follow through with fat-loss or any goal in life for that matter.
And whether we want to admit or not, each and every one of us is quietly, desperately, wanting to be recognized and accepted by somebody…
But especially by our parents and our children.
And that's where my Dad and being a Dad comes in.
My Dad has been there for me through it all. The good. The bad. The ugly.
No matter how "bad" things got in my life – and no matter how ugly the situation was, I could always count on my Dad.
His unconditional acceptance of my failures and his relentless support of my crazy goals is what has allowed me to achieve the success I have today.
It's also what drives me to be the best father I can be for my daughter.  
And to this day, both of them are the motivating factor behind the creative genius that helps me develop new products and innovative ways for people like you to get (and stay) lean.
Even though I've discovered and applied one of the most efficient ways to burn fat and stay lean all year round…
No matter how many "BSOs" I've accumulated or how many awards I've won…or successes I've had, NOTHING pales in comparison to the reward of being a father and a son.
Nothing.
Two of the greatest gifts I've ever received from this world are my Father (Brady) and my daughter (Jordan).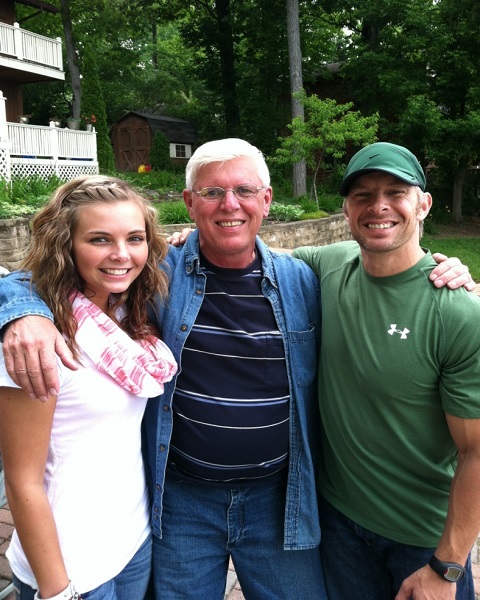 The older I get, the wiser I get and the more I cherish and embrace these relationships.
The closeness I have with my father and my daughter is something that time can never take away.
So that's why I wanted to take the time to give a very special "thank you" to my Dad for allowing me to be "me."
And a huge "thank you" to my daughter for loving me even when I screwed up royally as a father.
I can honestly say that after 42 years of being alive I have absolutely zero regrets as a father and a son.
Zero.
Was I perfect? He!! NO.
Did I make mistakes? A LOT.
But I learned from them.
All because I had my daughter Jordy.
And all because I have an awesome Dad.
So always "cherish" those relationships closest to you and NEVER give up when you love somebody – even when they hurt you.
The rewards of deep relationships and a close family are ALWAYS worth the fight.
Have a great weekend!
Keep going strong.
Your friend and coach,
Shaun
Please share or "like" us