Is There REALLY a Bright Side of Reality Television?
I'll keep today's post short and sweet since it's August and we all should be enjoying this peak summer time.
This is usually the most unfocused time of the year for me in terms of personal growth and fat loss. I spend every August focused on time with my kids before they go back to college. Shaun and I always travel for a week or two in August and celebrate our anniversary.
The LAST thing I'm ever spending time on during the month of August is myself. I'm OK with it because my family and kids are worth it.
But something happened this past week that really inspired me to do and be more this August.
Shaun taped a reality T.V. show and asked that we sit down as a family and watch it. Of course the kids resisted, but Shaun insisted. "I promise it will be time well spent for everybody", he said.
As the kids all rolled their eyes behind his back, we settled into our seats for an amazing, one-hour journey.
For the record, we both feel like 90% of reality television is complete trash. (Shaun calls it: "The dumbing down of American Culture.") But, there is that small handful of reality T.V. shows that really do have a great message.
The Biggest Loser is definitely inspiring at times, but it kind of bothers me that it's NOT realistic for the average person at all. Nobody can go live on a fat loss farm, exercise for 6 to 8 hours a day, and be monitored by a physician.
There's also a lot of debate from other professionals in the industry about whether this extreme weight loss approach is really even healthy. The statistics also show that most of the contestants gain all their weight back after losing it.
That doesn't mean you can't use their stories to inspire you. Just like anything in life, we need to always try and look at the bright side.
OK, back to today's story.
This new reality T.V. show is called: "Breakthrough" with Tony Robbins. Shaun loves Tony and has been a student of Tony's books and courses for years now.
I usually could care less about this type of stuff, but this one really pulled on my heartstrings. Just look at what the actor Edward Norton had to say about it: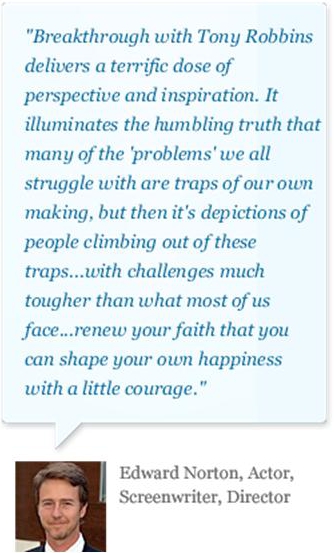 This show is all about having breakthroughs and creating your own destiny. Tony's quote is: "Life's about moments – don't wait for them, create them."
After you watch this show, you'll be counting your blessings and realize that most of your problems in life are really "gold plated".
This show and its message will help you avoid the downward spiral of self-sabotage and motivate you to a whole new level. Here's a link where you can watch the trailers and get inspired by this timely message: www.breakthroughinsider.com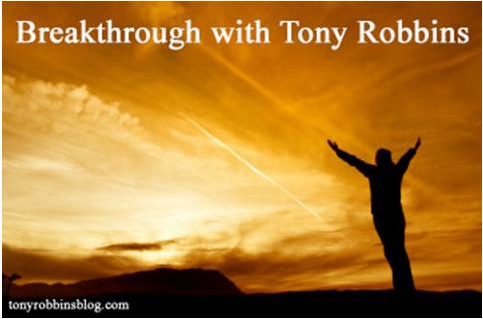 Shaun and I always use things like Breakthrough or inspiring movies and stories to bring us out of a rut.
For example, Shaun always reads biographies of successful people who have overcome huge obstacles. We both love movies like "Men of Honor" (Cuba Gooding Jr. and Robert De Niro) and the story behind it of overcoming impossible obstacles.
I personally love reading stories about other women who have become successful and significant despite having disabilities or adversities.
What about you?
What television show, book, or movie has inspired you to be a better person or do something better with your life?
Leave a comment and we can give each other a bunch of great ideas to stay inspired and motivated.
Even if it IS the middle of summer, this will help drive you to keep exercising and taking healthy action for August.
Have an awesome week!
Karen
P.S. Don't forget to hit the "like" button below for the people who haven't heard about this inspiring and life changing show.