The Purpose Driven Life:
The last few days have been a very humbling experience for me personally.
I recently teamed up with 10 of the world's top on-line fitness professionals to form a Men's Spiritual Study Group.
We basically hold each other accountable to identifying and fulfilling our purpose in life.
If that sounds deep, it is. 🙂
We started the study off by reading a chapter per day from the Best Selling Non-Fiction Hardback Book in History, The Purpose Driven Life by Rick Warren.
Reading through the first 3 chapters was a huge wake up call, and slap in the face, because I was forced to face my 5 biggest flaws and failures head on.
As I read through these in the Purpose Drive Life, it also made me realize that so many of us are driven by this unhealthy "emotional" baggage that we sabotage our health and fitness goals over and over again.
Considering this information has inspired over 32 million people across the globe, I highly recommend you take these to heart.
So do yourself a favor and really take the time to "think" about whether or not these 5 emotional poisons have held you back like they have me.
#1: Guilt
Many people spend their entire lives running from regrets and hiding in their shame. Guilt-driven people are manipulated by bad memories. They allow their past to control their future.
If this describes you, it's time to let go of the past.
We are products of our past, but we don't have to be prisoners of it.
#2: Resentment and Anger
Many people hold on to hurts and never let them go. Instead of releasing their pain through forgiveness, they rehearse it over and over in their minds.
Some folks "clam up" and internalize their anger, while others "blow up" and explode it onto others.
Listen, those who have hurt you in the past cannot continue to do so unless YOU hold on to the pain and resentment.
Remember, resentment is like drinking somebody else's poison and waiting for them to die.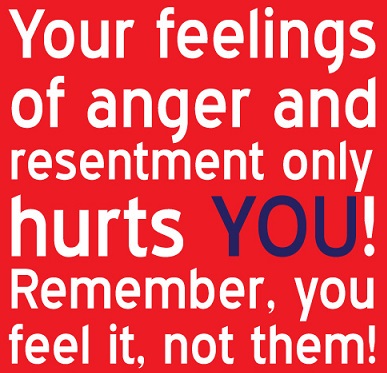 Even the bible says, "To worry yourself to death with resentment would be a foolish, senseless thing to do."
True dat!
#3: Fear
Your own fears may be a result of traumatic experiences in your past, failures, or even genetics. Regardless of the cause, fear driven people often miss out on great opportunities because they're afraid to take any risks.
Instead, they play it safe and avoid risks to maintain the status quo.
Always do your best to face your fears head on whenever possible and the positive results will immediately show up in every other area of your life.
Hint: According to author Rick Warren your best weapons to overcome your fears are faith and love.
#4: Materialism
The drive to always want more "things", or what I call BSO's (bright shiny objects), is part of our human nature because we think it will bring us more happiness and make us feel more secure and important.
In reality, possessions only provide temporary happiness.
Remember, self worth and net worth are not the same. The most valuable things in life are NOT things.
Real security and happiness comes from healthy relationships, serving others and achieving worthy goals that transform us from the inside out.
#5: Approval
So many people on the planet allow the expectations of parents or spouses or children or teachers or friends to control their lives.
In fact, many adults are still trying to seek the approval of unpleasable parents.
Others are driven by a variety of peer pressures so they're always worried a about what others think. I don't know all the answers, but one key to failure is to try and please everyone.
Being controlled by the opinions of others is the fastest way to miss out on your purpose in life and will surely sabotage your health and fitness goals.
————-
Ok, listen. I know these aren't a bunch of "sexy" fat burning tips, but in my humble opinion…
….If you let ANY one of these 5 poisons drive your life, you'll NEVER get your dream body.
I know from firsthand experience because all five of these emotional poisons have consume and guided my life in the wrong direction at one time or another.
That's why it's so important to always be pursuing some type of worthy goal and finding your purpose in life.
Whether it's your best body, your marriage, your family, your friends, your career, or your finances — have a purpose driven life:
– Gives your life meaning, which gives you significance and hope
– Simplifies your life because it defines what you do and what you don't do
– Focuses your life to concentrate your effort and energy on what's important
– Motivates your life by producing passion, which always produces more energy
– Prepares you for life beyond this world
So ask yourself these two questions:
1: Am I allowing any of these 5 emotional poisons drive my life or consume me?
2: Do I know my real purpose in life?
When you really stop and think about the grand scheme, we're merely seconds in the clock that's time.
That's why I think it's so important to stop and think about the things that really drive our lives.
I'll end today's newsletter with a famous quote from one my mentors, the late Jim Rohn.
"It's not which way the wind blows that determines your success or your future. It's the direction you set the sail."

The Purpose Driven Life sets the
sails in the right direction
A special "thanks" to Rick Warren for providing the inspiration and content for this timeless message from the Purpose Driven Life.
I hope it impacts you the way it has me.
Karen and I are always looking for feedback when I send out unusual content like this, so feel free to comment and give us your take.
Keep going strong.
Your friend,
Shaun
Please share or "like" us