When you first land in Jamaica it only takes one wrong  turn before a Jamaican will approach you, rudely tie a bracelet on your wrist, hand you a joint, and demand you
give them ten dollars.
NOT a great first impression or any way to start a vacation.
However…
If you turn the other way you'll instantly notice that 90% of Jamaicans are the nicest, most down to earth people in the world.
They'll go out of their way to serve you, entertain you, educate you and provide you with one of the greatest vacation experiences in the world.
Same place. Two TOTALLY different experiences.
All because most Jamaicans understand exactly how to use the most influential and powerful tools the Big Man above has given to each and every one of us.
Words.
I don't think many of us realize the power OUR WORDS can have on ourselves and others.
When used the wrong way, words can cut so deep the scars may never heal.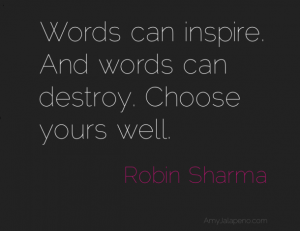 When used the wrong way, words can cut so deep the scars may never heal.
But words can also build unstoppable confidence and self esteem when they're used the RIGHT way.
So do yourself a huge favor and learn from the Jamaicans.
WATCH your words and use them wisely.
Whether you're speaking words to others or speaking them to yourself in the form of thoughts…somebody is ALWAYS listening.
So your words are one of the most powerful tools you have in this life.
And whether it's your fat-loss, your health, your career, your family, or ANY area of your life…
What you say determines how others (and you) "feel".
So be careful what you say and do because all of it comes back to you.
Good or bad. It's just how the world is wired.
If you say things that build people up and let them know they're loved – it can make their day. And over time, it can change lives.
But if you're a Negative Nancy or a David Downer all the time, you'll just go backwards in life and take the people around you along for the ride.
And because "death and life are in the power of the tongue", and I've personally experienced the good power AND the bad power of my own words…
I truly believe this one was worth sharing.
That's why Karen and I continue to come to Jamaica time and time again. In fact, this was our 5th time going on vacation to Bloody Bay in Negril, Jamaica. <— Highly recommended
What they "say" makes us feel welcome, loved, and
important.
Ya MON! Respect.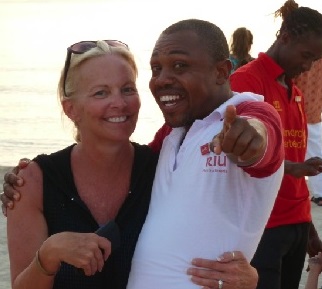 Keep going strong,
Shaun "watch your words" Hadsall
TOP ARTICLES AND RESOURCES OF THE WEEK:
=> Banish your boring diet and "thermo" charge your food (250 fat-loss recipes)
=> FREEEE step-by-step meal plan (exactly what to eat to burn belly fat)
=> 17 of the BEST cheat foods to eat for faster fat-loss (*free* report)