Positive Affirmations to Turn on Fat-Burning Switch
We've all had our ups and downs.
Sometimes we're hitting on all cylinders and everything seems to be going "just right…"
But other times, it feels like the storm will never end.
For some of you, the journey has been long.
Very long.
And in no way do I wish to minimize your storms or any of the difficulties you've had to face.
Karen and I get the emails EVERY day.
Some of you have had to carry burdens greater than we'll probably ever have to experience.
– Maybe you've said "good-bye" to a life long partner or mate…
– Maybe you've been robbed of a life-long dream or goal…
– Maybe you've been challenged with injuries or an illness that stops you from getting the body you so deeply desire or prevents you from feeling "healthy"
– Maybe you've been used or even abused…
– Maybe you've had to battle addictions…
– Maybe you're burdened financially and you're barely making ends meet…
Listen, we've been there.
Over the last five years my wife and I have encountered and overcame more than I ever thought possible….
– Karen battled colorectal cancer, got radiated straight into menopause and lost BOTH her parents…(all in less than 2 years!)
– We nearly lost our house and had to sell one of our businesses to make ends meet…(and had to file a nasty lawsuit to recoup some of the damage!)
– Less than two years ago we both lost our way so bad that we nearly divorced…(but through it all, God made our marriage stronger than ever!)…
At one point I was even living out of the trunk of my car and had to stay at my Mom's house.
Talk about EMBARRASSING.
That's why we KNOW how hard life can be sometimes.
But we NEVER gave up.
And I know from experience that it's nearly impossible to see the forest when you're blinded by the storms from the trees that stand right in front of you.
The desire to quit is completely normal, so you're not alone.
But let me encourage you…
You see – it doesn't matter HOW lean you are, HOW happy, healthy or wealthy you are….or who you have surrounding you.
Eventually – (sooner or later) every single one of us will experience set backs and adversity.
It's not a matter of if…but when.
But EVERY problem we have in life is a character-building opportunity. The more difficult it is, the greater the potential for building spiritual and moral fiber.
You may not see it now, but there's always a bigger lesson and blessing hidden inside EVERY problem and adversity we experience.
It just hasn't arrived YET.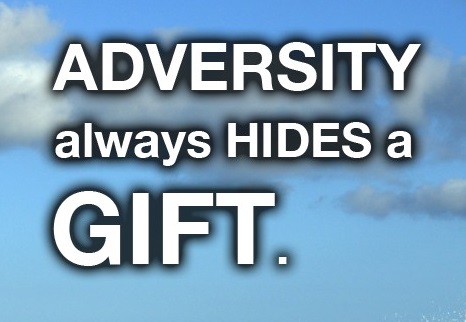 So always remember — YOU have a mission and a purpose on this earth. Everyone does.
Forget the past and STOP worrying about what you can't control.
Instead, focus on what you DO have and try to remember that over two thirds of the world wakes up EVERY day with NO running water or a toilet to flush.
Here's a simple 60 second "mind trick" you can use that will help you overcome your adversities.
Make a list of ten to twenty POSITIVE and EMPOWERING words or short phrases (positive affirmations) that describe who and what you want to be on a daily basis…
And commit these positive affirmations to memory.
You could use a 5×7 card or even a voice recorder to play them back to you everyday until you memorize them.
Now I know you may think this sounds silly or maybe even stupid, but trust me.
This works.
For years and years now my friends, family, even my older brother always ask me,
"How in the world do you stay so positive ALL the time???"
Simple.
As soon as something negative happens to me or I start to get angry I immediately flip the switch and program my brain for success by reciting my positive affirmations.
Now I don't actually tell my friends and family about this "positive thinking" mind trick because they'll just think it's silly or a placebo effect.
But I could care less because I've experienced the positive results from using this trick for years now.
Plus it's helped me deal with adversity, overcome obstacles, and be more productive and happy…
…And it can do the same thing for you too.
So I'm going out on a limb here and maybe you'll think I'm crazy after you read this…but here's my personal list of positive affirmations that I use daily.
I memorized this list well over 10 years ago to describe who I am and / or who I strive to be on a daily basis:
I'm a giving and loving person, I have unconditional acceptance of others, I'm kind, I'm patient, I believe in myself and others, I'm positive, I'm motivated, I act on intense desire, I'm optimistic, I help and serve others, I have discipline, I have ethics, I'm energetic, I'm tenacious, I'm organized, I'm humble, I set and achieve daily-weekly-and monthly goals, I give and receive love, I'm determined, I act my passion for fitness, I'm consistent, I'm reliable, I give and receive respect, I'm dedicated, I'm responsible, I model positive leadership, I live with God's values, I have integrity, I'm honest, I'm successful, I apply knowledge, I visualize success, I'm competent, I have conviction and enthusiasm every day…
My dreams, wishes and prayers are gratified and answered because I harmonize them with my thoughts, my visualization, and my actions. God can move the mountains, but I must bring my shovel and take action today and every day.  
——————————————————————————————————————–
Keep in mind that I no longer even have my positive affirmations written down because it's just part of WHO I am on daily basis.
When something negative in my life happens or somebody is mean to me…
These words are my default.
I simply use this mind trick. I focus on my positive affirmations, and program my mind to stay positive and focused on the important things in life.
I'm not saying it's a "cure all" or it will get rid of all life's problems and challenges. But it sure does make it a helleva lot easier to deal with.
Over time this mind trick also develops strong neural-pathways so your brain eventually starts believing your affirmations are real and true, so it becomes your reality.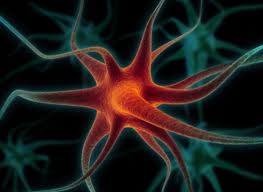 Pretty cool stuff that will help you get more out of life and  KEEP you focused on the important stuff when the storms hit your life.
This isn't some new "law of attraction" philosophy either.
It's been around since the days of the bible.
Proverbs 4:23 says, "Be careful how you think; your life is shaped by your thoughts."
Romans 12:2 says,  "Do not conform to the pattern of this world, but be transformed by the renewing of your mind. Then you will be able to test and approve what God's will is—his good, pleasing and perfect will."
Whether you're a "believer" or not, this is authentic food for thought.
So write down your list of positive affirmations, read them
daily for a few weeks…
…Then use this mind "trick" to program your mind for faster
fat-loss and kick your adversities to the curb.
And the next time something bad happens or somebody wants
to suck the life out of you with their negativity…all you have to
do is just focus on your affirmations.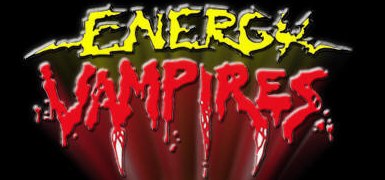 It's like your own personal silver bullet against these energy vampires.
Trust me, they're everywhere.
So how do YOU deal with adversity?
Does this help??
Please leave us a comment!
Your friend and coach,
Shaun "positive affirmations" Hadsall
Please share or "like" us