Once a year my biz partner, Ryan, my wife, Karen and I travel to Nicaragua to oversee the installation of a new water-well for an impoverished village.
This has become one of the highlights of my year.
It's not just about installing wells — it's about installing the right water systems, it's about rainwater harvesting and other water-related projects. It's about helping entire communities enjoy reliable safe water.
Living Water International is a ministry that we here at Get Lean in 12  fully support with our resources and our time.
Seeing the way these people have to live on a daily basis is truly heart breaking.
– They live in shacks with no furniture.
– Their floors are made of dirt.
– Their entire yard is nothing but a windy dust storm.
– They wash their clothes by hand.
– They have to grow their own food just to survive.
– They use buckets of dirty (often contaminated) water to shower and bathe.
– Their bathroom is a 5 foot tall outhouse with a hole in the ground and no toilet paper.
[pro_ad_display_adzone id="8825″]
HOWEVER: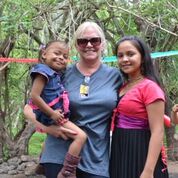 They're still happier, more positive, and more grateful than 95% of the people we know.
This is a picture of my wife, Karen and two of young girls she built a deep bond with, while we were there last year.
The village was called, "The Widows" (Las Viudas) because so many men from the village have passed away from kidney disease from the contaminated water.
Thanks be to God, we were the answers to their prayers. The water well we installed will save the lives of hundreds of men, women, and children.
My business partne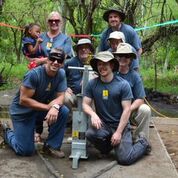 r, Ryan Colby (in left pic, far right, first row) and I have a goal to give $50,000 or more every year to Living Water International with The OVER 40 Ab Solution.
Living Water International is committed to saving lives through reaching communities with safer, potable water as well as instructions in sanitation and hygiene. Education is as vitally important for helping these hurting people understand how to prevent diseases by washing their hands, storing their water properly, and using a latrine as installing a water system in a community.
Remember:
You are blessed just to have food, running water, a toilet to flush, and a place to lay your head at night.
Count your Blessings tonight!
Shaun