Managing Expectations:
Lately my wife has been complaining a lot about her current weight loss plateau (aka- bitching about her belly fat 🙂
Well after a few glasses of wine at dinner on Saturday night, the drama started and it all came pouring out.
"I'm so sick of feeling fat and ugly and you'll never understand because you're a man who's eleven years younger than me!"
She blurted out as she busted into tears.
This was like a dagger to my heart and crushed my soul as a husband who dearly loves his wife – no matter what she looks like.
And I take on the personal responsibility for her feeling this way.
After all, it's my job to make her feel beautiful, build up her self esteem, and love her unconditionally.
We talked about it more, hugged, cried, laughed, worked our way through it, and she assured me that it wasn't my fault.
But it was still extremely difficult for me to handle because I NEVER want my wife to feel this way about herself.
Ironically, the very next day's message at church provided many of the answers we were looking for.
The theme of the service was simple.
"Happiness in your life is about properly managing expectations."
You see…
My wife is so busy comparing herself to every 20 or 30 year old hard body, she forgets that she is "hotter" than 99% of all the 53-year-olds on the planet! She's not managing expectations properly?
We all need to be reminded of this.
For example, a young whippersnapper between the age of 20 and 30 years old is going to get a heck of a lot faster fat burning results than an aging female who has her hormones all out of whack.
Seems obvious, I know.
But if you're a female and this somewhat describes you, just be patient enough to understand your metabolism is going to be a little more stubborn because you have other
genetic factors working against you.
Keep going even if you feel stuck. You'll get your break-through if you stick it out.
Guys too.
I know it's a helleva lot harder for me to burn fat at 42 than it was just five years ago.
Yes, managing expectations sucks.
But that's life. It's the hand we've been dealt so we have to learn how to play it right and manage our expectations properly or we'll just set ourselves up for disappointment.
Remember that health and fat-loss is a journey, not an event.
I've seen it for years.
Most people set their expectations way too high.
They compare themselves to a swimsuit or fitness model, some Hollywood celebrity, or even a good friend that has the "skinny" gene.
I know from my own personal experience of being involved in the talent and fitness modeling industry that you can usually only hold the "peak" moments that you see in photographs for a few hours at a time, a day or two at most.
Unfortunately, after photographers "capture" these moments, they hand them off to advertisers who airbrush the photos and trick us into making us feel like we should be able to look this way all the time.
Not true, OR realistic.
Think about how many times you've seen a famous model or actor on the cover of a magazine or on a commercial looking out of this world.
Then a day or two later while you're buying groceries you see them "caught on hidden camera" with all their physical flaws exposed by some gossip magazine or publication.

Managing Expectations? Stop the Comparisons!
This is why it's critical that you do your best to compare yourself with yourself and your past accomplishments.
This is the only way, in my opinion, to make your health and fitness journey a rewarding experience.
Karen wrote down the six things we heard at church on Sunday morning to help us with managing expectations.
Here they are:
1: Life is sometimes difficult.
Bad stuff happens to all of us at one time or another.
2: Control is a myth.
Many times we think we're in control, but we're not.
3: It's not about you (or me).
There are many more important things in life than what we see in the mirror.
4: Things will change.
Sometimes for the better, sometimes for the worse.
5: No one person can make us "happy."
Happiness comes from the spirit within.
6: We must live with the end in mind.
Any adversity you experience will eventually pass. Focus on the forest, not the trees.
If you're struggling or not happy with how your body looks, or you're not getting the results you're looking for, hopefully this helps you put things in perspective.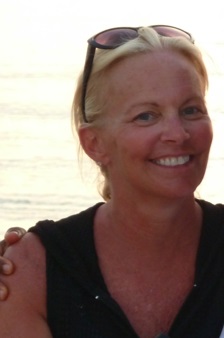 My Beautiful Wife, Karen
Keep going strong.
Your friend and coach,
Shaun
P.S. Make sure you check out my latest videos and articles
on my blog and YouTube channel:
==> The "easiest" exercise ever for burning belly fat (video)
==> Funny bathroom story about Inflammation + Danger of Protein