This is a cause very close to my heart…
The world is changing rapidly. Global population has reached 7.3 billion (with a "b"), and it's expected to grow to 9 billion by 2050. Over 80% of the world lives on less than $10 per day.
Declining natural resources, increasing drought and climate-related natural disasters are making it increasingly difficult to have sufficient access to energy and sanitation.
Then there is the issue of clean water. There are 663 MILLION people who do NOT have access to fresh, clean, drinking water all over the world.
In spite of great improvements in sanitation and in the availability of re-hydration solutions, dehydration resulting from infectious diarrheal disease remains one of the largest single causes of death among young children, being responsible for about 1.5 million deaths annually around the world.1
Two thousand children in Africa suffer and die from severe diarrhea (every day!)2 from drinking contaminated water, more than any other single cause of death. Over 90% of these deaths could be prevented with safe water, and better sanitation habits.
YES, this is very sad news, but not all hope is lost…
For the last few years we've been part of a well-digging team in Nicaragua to help provide fresh drinking water to two communities desperately in need of it.  
Since that time, Get Lean In 12 has personally donated over $12,000 dollars to help this cause, and our mission is to give $50,000 per year or more towards these efforts to help save more lives.
[pro_ad_display_adzone id="8825″]
Wondering what you can do to help?
If you're reading this blog you can help contribute fresh, clean, drinking water to a child in need for 90 days simply by grabbing a copy of our new system called The Over 40 Abs Solution.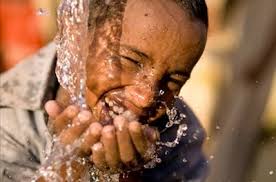 In other words, your investment will help us SAVE LIVES and officially be a part of this amazing cause. (Not to mention it's THE solution to getting the abs you've been craving!!)
If you do decide to pick up your copy, THANK YOU for helping us towards our goal of giving back $50,000 or more every year to help save lives with our Living Water International Water Project.
Shaun

References:
1Black R, et al. (2010) "Global, regional, and national causes of child mortality in 2008: a systematic analysis", Lancet 2010; 375: 1969–87.
2http://www.water.cc/whywater