The Fat Loss Time Management Law of 6 – 3 – 2
What's the one thing you can NEVER get back from the year 2010?
TIME.
In yesterday's post,  we revealed just how valuable time really is. It's a "must read", if you didn't check it out. It took a lot of emotion and guts for me to write the post, so please read it if you haven't yet.
Since everybody loved the post, we're back today to show you how to make the most of your time, your relationships, and your fat loss in 2011.
So over the next few days we're going to be giving you our most valuable time management techniques for fat loss and life.
What will these strategies do for you?
1. Help you stay focused to burn more fat and be more productive on a daily basis.
2. Automatically create more time in your day so you stop feeling anxious or overwhelmed.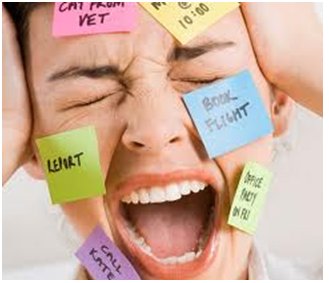 3. Instantly be more organized as you live your everyday life.
4. Improve your quality of life and enhance communication in your most valuable relationships.
Don't worry. We're not going to bore you with the same ole' Franklin Covey time management stuff or talk to you about "techy" devices that are supposedly helping you get more done.
In fact, these are the exact devices and gadgets that are robbing us of our valuable time. Don't get me wrong. I have a "crackberry" too, and it has its place. BUT, I keep every alert (text, email, phone calls, I.M., etc.) on silent to prevent constant interruptions.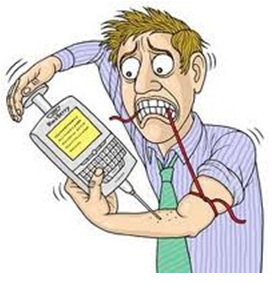 There's a very valid reason why I do this.
You see, these interruptions are like trying to drive from Michigan to Florida and stopping off in California. It's not efficient and it diverts our focus from the truly important things in life. Our relationships and the healthy emotional communication that cultivates them.
Karen and I have a nickname for our (so-called) "smart" phones.
We call them EFS's (Electronic Focus Splitters).
Again, technology has its place, but it doesn't magically help you get more done.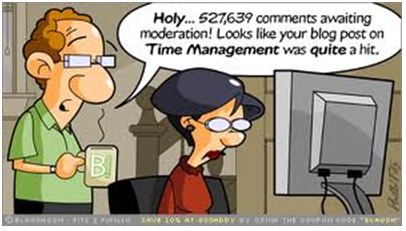 Now that we've reviewed our stance on technology, it's time to teach you how get more done, burn more fat, and maximize your potential for 2011.
Drum roll please…
Introducing…The Time Management Law of 6-3-2.
It's simple – yet extremely profound.
It's ¨6 words…Followed by 3 words… Followed by 2 words…"
Do one thing at a time…
Do it right…
Finish it…
WHY is this so powerful?
Because multi-tasking has been shown in study after study that it does NOT work. In fact, we all get less done when we multitask. I'm not talking about having a conversation on the phone with your sister while you cook. That's a completely different beast (and blog post) altogether.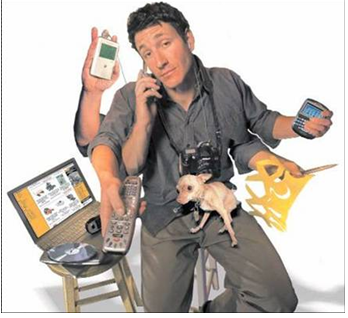 Research shows that when we take a phone call, check our email, or respond a text message, it takes 20 to 40 minutes to refocus our attention on what we were trying to get done.
If you add this up over the course of a day, most people are wasting 3 or 4 hours a day being interrupted without even knowing it! Just when you thought technology was a benefit. Wrong.
When you follow the law of 6 – 3 – 2 it forces you to focus on what matters most.
Also, when you apply "little tweaks" like this to your daily schedule, you'll eliminate the nagging burden that lurks within all of us.
Regret.
You know the feeling. The day is over and even though you felt slammed the whole day, you really didn't get anything done. I've been there. That's why I try to follow this law whenever possible. Yes, I'm still guilty of being interrupted and falling victim to the trap. BUT, I'm aware of this law and it keeps me "in check" most of the day.
Make sure you also apply this critical time management technique to your fat loss too. If you allow interruptions while you exercise, you're screwed. You'll NEVER get to your goals. Sorry, it's just fact.
Make a commitment to shut off the phone, the instant messenger, text messaging, and emails while you workout.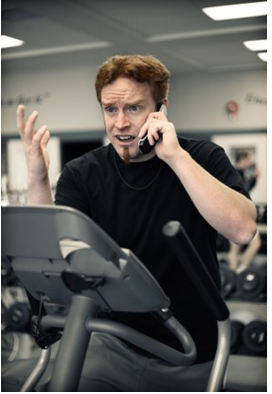 This tactic is really a no-brainer, but since I see people doing it at the gym everyday I know some of you are probably doing it too. It's stupid. A waste of your valuable time. Stop the madness now if you're doing this.
This is one of my biggest pet peeves.
Here's what it all boils down to.
You can either get busy living…OR get busy dying (from Shawshank Redemption – BTW…GREAT movie).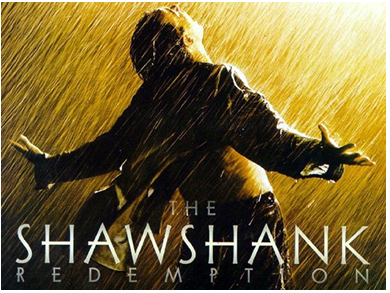 By applying this law, you'll eliminate all the unimportant stuff in your life that's vying for your attention and focus your energy into things that really matter.
Our hope is that you can use the law of 6 – 3 – 2 to do more, be more, and burn more (fat) in 2011.
There's also a really cool technique you can use to prioritize the Law of 6-3-2.
We call it the "4D" solution. Go ahead and hit the "like" button below, we'll be back in the next couple days to reveal this killer tactic.
Do one thing at a time. Do it right. Finish it.
And I just finished this blog post. 😉
Your coach and fat loss friend,
Shaun