Increase The Fat Burning Effect Of Exercise With THIS New Interval Approach…
If you're a reader of our newsletter and blog, you should know by now that we're BIG believers in interval training or what we like to call "Metabolic Bursting".
If you don't know why, here's the short list:
Bursting and intervals are time-saving, efficient, and burn way more fat.
They stimulate ALL kinds of fat burning hormones and metabolic triggers (a.k.a. Hormonal Response). Lowers insulin, raises Growth Hormone – GH, Free Fatty Acids, and powerful brain chemicals – Adrenaline etc.
The famous "Afterburn". The GL-12 protocol (discussed below) or also known as "Tabatas" has been shown to increase metabolic rate for 38 to 48 hours after doing just one 12-minute session. Pretty amazing.
Challenging and fun.
Great stress reliever too.
For those of you who are unfamiliar with interval training or metabolic bursting, it's simply a very hard, short burst of exercise (sprinting, jumping, cycling etc.) followed by an active recovery period to let the heart rate come back down before repeating another burst or interval.
Just like anything else when it comes to burning fat, more is NOT better when it comes to interval training.
Three or four bursting or interval workouts per week will do the trick…and give you great results without overtraining. Confucius say: "Exercise is just the stimuli for the results to occur while you rest, recover, and nourish." (really it's me who said this, but Confucius sounded better I guess. 😉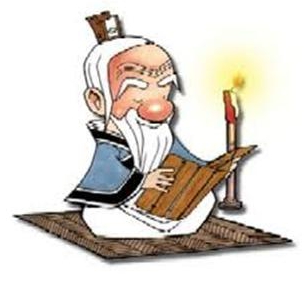 The duration depends on the "type" of intervals, but in general the interval portion (minus the warm up and cool down) should be anywhere from 4 to 20 minutes. No more, no less.
A few minutes after you perform high intensity bursting or even metabolic circuit training (body weight circuits), science proves there is a BIG release of fatty acids into the bloodstream.
This is where this cool, new trick comes into play.
Since the fatty acids "dump" into the bloodstream after intense exercise, it only makes sense to try and burn them off.
If you don't, research shows these fatty acids could literally move from your upper body to your lower body (or somewhere else) and just be re-stored. Weird and wacky – I know, but the human body is an amazing machine.
That's why I always recommend walking or jogging at a low intensity for 10 to 30 minutes after high intensity bursting, if time permits. More on this in a second.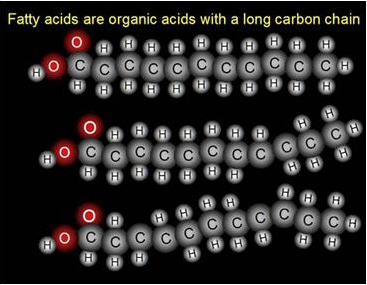 I've recently been studying a lot of research and advanced techniques about intervals and bursting from a guy named Lyle McDonald.
This guy is "the man" when it comes to cutting edge science and burning stubborn fat. But his strategies typically only apply to hardcore bodybuilders and people trying to achieve ultra low body fat levels. Like 8% or lower.
However, the techniques can be used and applied by anybody, they just have to be tweaked a little.
I know this might sound like advanced stuff, but I've dissected, researched, and applied his protocols on other people and myself so average people like you don't have to try and figure out all the technical jargon.
Before I give you the protocol, remember to perform this workout 3 hours after a meal or in the morning after an overnight fast. Insulin is low and glycogen is more depleted to stack the deck in your favor.
Here's the secret to getting those fatty acids to dump into the bloodstream at a steady rate AND burn them off after intervals.
Warning: This is NOT for beginners. Do not try this technique if you haven't conditioned yourself previously with normal exercise on consistent basis.
In other words, be careful or you'll end up like this guy below.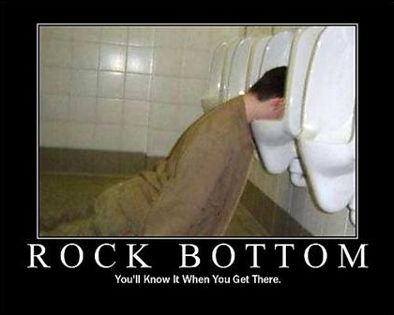 After you're done getting a giggle, check out this new protocol.
Warm up

: 5 to 10 minutes at a moderate pace.
Bursting Sequence

: 10 to 12 minutes of bursting or intervals. 20 to 30 second bursts followed by 30 to 40 seconds active recovery (slow to medium pace), repeat until 10 to 12 minutes is up. It's also recommended that you use a machine that you're not used to. This will increase the "hormonal" response. Pretty cool little tip…I know.
Walk briskly 3 to 5 minutes until you're heart rate is about 120 bpm or lower. Rest completely for 5 minutes to allow fatty acids to be

released and dumped

into the bloodstream. I usually stretch or read a little.
Immediately perform 20 to 30 minutes of aerobic (lower intensity – moderate pace) activity. Ideally you want to use a medium pace just below the lactate threshold. THIS is what will help burn off those fatty acids and enhance the fat burning process.

It will also ensure you're not re-storing the fatty acids.
Drink lots of filtered water and make sure to wait 45 to 60 minutes before you eat anything, unless your body tells you something different or you have other sugar limitations (diabetics etc.).
You can also replace the bursts with body weight training like burpees, thrusters (both shown below), or even stuff like jumping lunges or other bodyweight type circuits.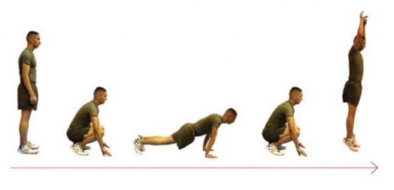 Burpees Shown Above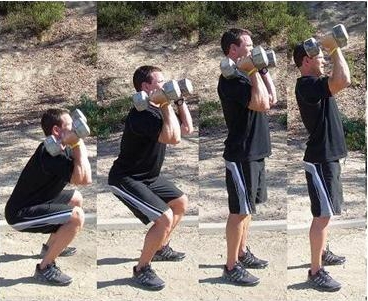 Thruster – also called Squat Press
This protocol obviously takes a little longer, but it's worth it.
I have to admit; at first I was very hesitant to share this cool new metabolic bursting trick with you.
Why?  Because so many people think that more is better and they'll go overboard and try to do this 5 or 6 times a week. IF you decide to be an over-achiever with this technique it WILL backfire on you – I promise.
On the other hand, try doing this twice a week (and twice a week ONLY) in place of two of your normal interval or bursting workouts. You just might magically get rid of the stubborn stuff you've been holding onto.
Plus, variety is a spice of life…so spice it up!
Don't forget to hit the "like" button below and I'll be back in a couple days to talk about the "Strategic Cheat".
Every person who exercises and eats healthy a couple days a week now thinks they have the right to go on a food bender. This is a big mistake.
You have to know WHEN and HOW to cheat so it provides the physical and psychological response you're looking for.
Your fat burning friend and coach,
Shaun