Intermittent fasting is becoming all the rage these days in the on-line fitness world.
And for a legit reason…
…Science and real world results continue to deliver evidence of its efficacy for burning off stubborn belly fat, reducing inflammation, increasing growth hormone, and fighting against aging.
Although Karen and I are big believers in Intermittent Fasting and we use it weekly as a part of our lifestyle, it's not for everyone.
For those of you who are interested in getting all the known benefits of "fasting", but struggle with the thought of not eating for hours on end, I have an "easier" method
you can try.
It's typically called the Warrior Protocol (originally coined by Ori Hofmekler) or hunter/gatherer diet and it basically "mimics" traditional Intermittent Fasting (I.F.), but without the all the hunger.
The basic premise is that you can eat small amounts of animal proteins, veggies, nuts, seeds, and friendly fats earlier in the day.
You can even add some fruit if you exercise early in the day.
The goal of this method is to prevent surges in insulin so you still get all the benefits of I.F. without feeling hungry all the time (or worrying about muscle loss).
I used this exact same method about 3 days of the week, when I trained early in the a.m., to get my body "beach ready" before my trip to Jamaica.
Here's what the final result looked like last week: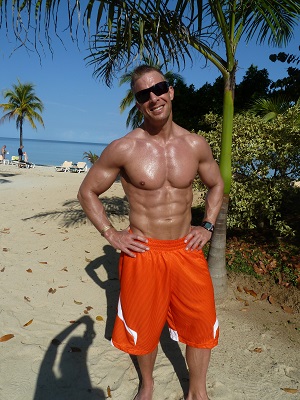 Now obviously I was making the RIGHT food choices and busting my tail in the gym too, so I'm not saying this "warrior" approach is the Holy Grail by any means.
But I was definitely impressed with the results following this protocol on days I used early morning workouts.
Right after exercise I would then consume a shake that consisted of:
   1 cup of coconut milk (non-GMO)
    2 scoops BioTrust Low Carb (both vanilla cream and the chocolate are absolutely delicious)
   1 scoop Athletic Greens (10 servings of fruits and veggies and then some)
    1 very ripe banana or 1 cup of organic berries
    3 or 4 ice cubes as needed
I call this my Super Shake because it will help you…
1: Prevent muscle loss and keep cortisol (stress hormone) to a minimum
2: Promote faster recovery and healthy insulin levels
3: Fill in EVERY missing gap in your daily nutrition plan
4: Fill you up and prevent you from having hunger pangs all day long
Then a few hours later I usually have a cup of coffee with some stevia, a little grass fed butter (Kerry's is awesome) and a tablespoon of coconut oil to get some friendly fats.
After that I would "fast" until dinnertime, which was usually anywhere from 6 to 10 hours and have one or two huge, but "healthy" feasts at night.
Ultimately, the warrior / hunter-gatherer fasting approach is another legitimate fat-loss tool you can experiment with.
I would just make sure that at least one time per week you're using an "Eat-Stop-Eat" type of fast (from Brad Pillon) along with this method.
I always try to use the ESE protocol the day after a Cheat Day.
This will maximize the hormonal effect of the prior day's cheat food because your body's metabolic triggers are perfectly positioned for faster fat-loss.
This is also known as the Feast/Fast protocol.
In fact, Brad's Eat-Stop-Eat is the very first ebook I ever bought, downloaded, and read over five years ago.
After reading it, I started experimenting with "fasting" long before it was mainstream.
And since then, Brad's updated the science about a bazillion times.
You can check how it works here for dirt cheap:
==> Research PROVES Eat-Stop-Eat burns more fat and KEEPS you young
Remember, it's not necessary for you to use an Intermittent Fasting  protocol at all. But I truly believe it has so many benefits that it's worth experimenting at some point during your fat-loss journey.
Have an awesome Thursday,
Shaun
Please Share or "Like" us