It happens like clockwork. January hits and the New Year's Resolutions crowd descends upon your gym, turning it into a crowded, jumbled mess of humanity.
For the next few weeks, your workouts are disrupted by those with good intentions but all too often a lack of gym etiquette knowledge and, in many cases, common courtesy.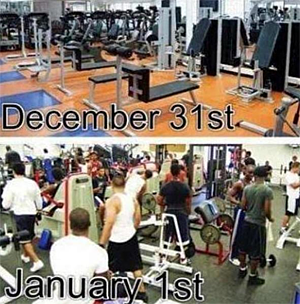 But take a look around your gym now.
While exercising and losing weight are among the most common resolutions, about 75 percent of those New Year Resolutioners stopped showing up regularly before the end of February, leaving plenty of space now to get your workout in without interruption and frequent annoyance.
This also makes it the perfect time to step up your own game by adding a new element or two to your workout regime. Give one or more of these ideas a try to change things up a bit while also keeping your exercise routine from becoming stale.
Ramp up the intensity

If your weight-lifting workout has gotten a bit redundant of late, try changing things up a bit while also ratcheting up the intensity.

Adding one or more Intensity Stackers on a regular basis will help you get get more muscle stimulation, secrete more growth hormones and burn more fat — a perfect combination!

Try a class

During the months of January and February, fitness classes like HIIT (High-Intensity Interval Training), bootcamp sessions and TRX classes at gyms are frequently packed or booked long before their start times.

[pro_ad_display_adzone id="8825″]

But with this peak period finally over, now's a great time to try something new and work on developing strength and flexibility in areas that can transfer over to better power and performance in your regular workouts.

Flip the script on your routine

If you're doing the same exercises in the same order every workout or most workouts, try switching things up a bit.

In other words, if you normally do your weight lifting first, then cardio, and finally core, try changing the order. Or change the order of your weight-lifting exercises once in awhile to give a nice little surprise to your muscles.

Take a dip in the lap pool

Swimming's a great way to burn calories with little impact on your joints. It also strengthens many of the stabilizers that protect your joints, helping prevent injuries from other activities.

Much like fitness classes, the pool will likely be far less crowded now, making it the perfect time to get a few laps in. Or consider giving deep-water jogging a try for a great running workout without the typical jarring impact to your knees, back and ankles.

Pay a compliment or two

Take the time to congratulate the 1 in 4 Resolutioners who not only committed to getting leaner and fitter this year, but have consistently followed through on that plan.

It's likely taken them a great deal of dedication and self-discipline to get this far, and a little praise or word of encouragement could go a long way in motivating them to keep going.

And perhaps you'll gain a new friend out of it or learn a few new tips and techniques to add to your own routine.
Have any tips or recommendations of your own to get the most out of your workouts? Make sure to share them with us in the comments section.