One of the hardest things I had to deal with when I started Get Lean in 12 back in 2008 was dealing with hate mail and criticism all the time.
I think Aristotle stated it best when he said there's only one way to avoid criticism: do nothing, be nothing, say nothing.
And with the invention of the internet, it's worse, because people think they have a free pass, because they can hide behind their laptop or their device, and say mean and hurtful things to you that they would never say to you in person.
In fact, most of the time, when I get hate mail and we respond — and we kill them with kindness, like my dad has always taught me — they actually will apologize and feel bad.
And if they saw you face-to-face, I'm sure they'd be apologizing, but because they're behind their device, they feel like they can say mean and hurtful stuff they would never, ever usually say.
I've received death threats, I've received legal threats, I've lost friends because of things that I've written. But I also know this is a direct reflection of how many people I'm helping and serving.
See, when you do a great job, people might tell their friends and family. They might give you a pat on the back.
However, if you accidentally screw up and do something wrong, they'll gladly jump on social media or jump on the rooftop and shout out to the world about what a jerk you are.
So it's going to happen to all of us at one time or another.
No matter how much good we do in this world, people are going to hate us, they're going to gossip about us, they're going to steal from us, and they may even try to ruin our reputation.
How to Handle the Haters
So here is how to deal with haters. It's the story of the eagle and the mangy crow.
You see, the eagle's number one hater is the mangy crow. Crows have a habit of getting together in groups of three and ganging up on an eagle and attacking him from behind.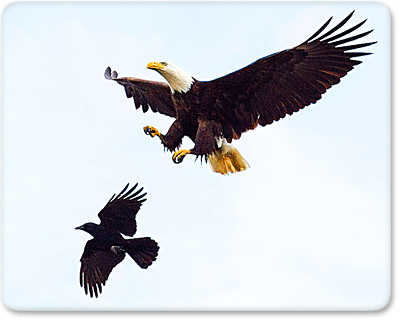 But instead of fighting back, the eagle simply keeps flying higher, and higher, and higher, and higher, until he gets to an elevation that the crows can no longer handle, and so he rises above his enemies.
And they have to go find another eagle to attack.
This is probably one of the best examples in the world about how to deal with haters who try to bring you down, criticize you.
Any time you find yourself under attack, you basically have two ways that you can look. [pro_ad_display_adzone id="8825″]
You can look behind you, and you can see the mangy crows pecking at your tail, and this is going to consume your time.
It's going to consume your energy and it's going to take you backwards in life.
The solution is to instead look forward and be an eagle, and rise above your enemies like he does.
And since every single one of us is going to have to deal with enemies and haters at some point or time during our lives, it's probably some of the best long-term fat loss advice I could give you.
In fact, if you have enough courage and discipline to change your body and lose belly fat and transform your body, you're probably going to deal haters there, because people are going to become envious and jealous of your success.
But just remember what my buddy Vince Del Monte told me. The acronym for haters is this: having anger towards everyone reaching success.
So that's how you deal with haters.
Now speaking of fat loss, because I love giving away free stuff, and because you've taken the time to watch this video and read this post, I want to give you a free gift.
It's called the Over 40 Stubborn Fat Sequence, and I want to give you a 12-minute protocol, free of charge.
It's a PDF, and it's going to show you how to burn more fat and calories in 12 short minutes than you could in an hour of traditional exercise.
Use This 12 Minute Metabolic Secret to
Melt 1 Inch of Belly Fat Per Day… Today
We're GIVING It Away 100% FREE!
Simply tell us where to send it!

Now I'm not saying this metabolic trick is easy by any means.
It will require effort. But it does only take 12 minutes.
So it's very time efficient, and specifically designed to work in tandem with the current hormonal condition of people in their 40s, 50s, and 60s.
So thanks for watching this video, and keep going strong.
Shaun