Here are five proven ways that virtually guarantee your body transformation success this year and beyond: 
1) Plan and Prepare
We all have weaknesses and bad habits that can get in the way of our daily schedule, which is why you must:
– Script out the following day each night before bed
– Lay out your gym clothes every night
– Cook your healthy meals in advance every week
– Schedule all exercise sessions (just like you schedule everything else)
2) Accountability
EVERY person who succeeds at transforming his or her body has some type of accountability in place. 
Many times hiring a coach can be expensive so here are a few options you can use instead: 
– Find a workout and nutrition partner to work with 
– Create some type of deadline like a photo shoot or vacation
– Make some type of financial commitment or bet with another person
– Sign up for exercise classes with a workout buddy 
– Give yourself a reward for following through
– Create a negative consequence for NOT following through
Example: My stepson, Brandon and I started texting each other what we eat at every meal to hold ourselves accountable.
[pro_ad_display_adzone id="8825″]
3) Get social support and share your goals with the RIGHT people
You become who you hang out with—period.
It's critical that you hang around the right people if you want to change your body or life.
Take inventory of the 5 people in your life that you spend the most time with and make the necessary changes to hang out with people who share and support your goals.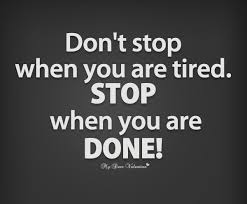 4) A meaningful incentive
Back in 1998 when I placed 1st Runner-Up in the Body-for Life™ physique transformation contest I had unwavering discipline for two reasons.
First, I was fighting for the custody rights to my daughter so I was on a mission….
Second, Bill Philips was giving away $10,000 and a Corvette to the winner. 
Those were BOTH amazing incentives that allowed me to follow through. 
One was a fight for fatherhood… the other was that car and money. 
My meaningful incentive for Get Lean In 12 this year is to donate $50,000 or more to provide clean water to poor children.
If I don't achieve this goal, more children that I could have helped will die.
As you can see, all of these are VERY meaningful incentives to follow through. 
What's yours?  Family? Your marriage? Your health? 
Make sure you identify your meaningful incentive and write it down to review daily… this will keep your train on the tracks. 
5) The Big Deadline
This is the most important one of them all. 
A deadline gets you to take action.
For example, if I put down a deposit of $250 with a photographer to take photos of me 6 to 8 weeks from now, you can bet your lucky stars I'm going to be thinking about that EVERY day…
And that Big Deadline will automatically take my discipline to a whole new level. 
There is NOTHING as powerful as the urgency of a deadline with meaningful consequences. 
If you apply these 5 proven strategies your results are guaranteed. 
And if you fall off track who cares!
Start over again TOMORROW…. NOT next Monday… NOT when everything is JUST right in your life… tomorrow.
We ALL screw up and fall off track. Instead of beating yourself up, strive for consistency not perfection… it's another secret of the journey.
Shaun