Growth Hormone…while you sleep!
One of the most frequently asked questions I get is, "How do I eat before bed if I'm trying to lose more belly fat?"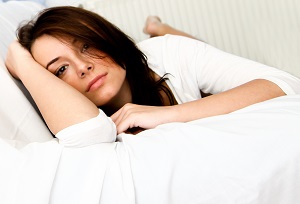 There are a variety of factors that come into play here.
For example, if you're exercising a few hours before bed, you can get away with eating LOADS of clean carbs without worrying about fat-spillover while you sleep.
This is sometimes referred to as "carb back-loading".
But this is an advanced method that's usually the exception, not the rule.
Most of us don't exercise before bed and if you're goal is primarily fat-loss, you need to customize your options.
So even though it's always best to eat your carbs when insulin sensitivity is highest; a.m. and post workout…
…Before bed your primary focus should be keeping your body in an "anabolic" environment and maximizing growth hormone release.
Vitally important processes take place while you sleep, so getting the right nutrition before bed will help with recovery, prevent muscle damage, and maximize the hormonal response.
But if you consume food too soon before bed, you'll spike insulin, which can block the release of growth hormone during the night.
Why?
Because ANY type of food consumption raises insulin.
And in the presence of elevated insulin it's impossible to burn fat and release growth hormone.
Here's the solution to MAX out your fat-loss potential before bed.
About two hours before bed, consume a hefty serving of high quality cottage cheese or a high quality low carb nutrition shake.
This will give your body all the necessary nutrients it needs to recover adequately, while allowing enough time to let insulin stabilize enough before bed so you can maximize growth
hormone release.
Cottage cheese works great for a few reasons.
1: It has high amounts of both whey and casein protein, which is a slow and a fast releasing protein. Think about the old nursery rhyme, "Curds and Whey".
So because cottage cheese is curdled, it will release amino acids from the protein both immediately and later into the night.
2: It's very high in the amino acid glutamine, which is the most abundant amino acid inside muscle tissue. Glutamine has been shown to be very anti-catabolic so it can help with recovery and prevent muscle loss.
But over the years, I've found there are MANY folks out there who don't like cottage cheese.
It's usually a, "I love it." or "I hate it." — type of food.
Plus, you should really only be having a few servings of dairy per day – max. So your next best option to achieve all the same benefits as cottage cheese is a nutrition shake.
But you have to make sure you're using a shake that has a blend of slow and fast release proteins.
Also make sure it has adequate fiber to help slow digestion before bed AND stabilize insulin quickly after ingestion.
BioTRUST Low Carb is perfect choice.
Here's 2 delicious recipes you can use a few hours before you hit the hay.
Cinnamon Cheesecake Smoothie  (Deeeeeelish)
Ingredients:
2 Scoops BioTrust Low-Carb Vanilla Protein (high protein, high fiber, no artificial sweeteners)
1 Cup Unsweetened Coconut Milk
1/2 Cup Plain Greek Yogurt (use non-flavored Greek only)
1/2 TSP Cinnamon
Stevia (to taste)
5 Ice Cubes
Notes: Put all ingredients in a blender and enjoy!
*Just replace the Cinnamon with 1 cup of strawberries for a post workout shake and turn it into a Strawberry Cheesecake Smoothie
This thing packs about 35 grams of protein, 5 grams of fiber, healthy bacteria from the Greek yogurt to help you absorb the protein better, and 3 time released proteins.
Coconut Cream Pie Smoothie
Ingredients:
2 Scoops BioTrust Low-Carb Vanilla Protein (high protein, high fiber, no artificial sweeteners)
8-10 oz Unsweetened Coconut Milk
1 TBSP Coconut Oil
5 Ice Cubes
On top of all the benefits discussed from above, this one adds in all the healthy "fast burning" fats from the coconut oil. Perfect to use a few hours before bed.
Notes: Put all ingredients in a blender and enjoy!
*Add 1/2 or 1 small banana to this smoothie for a great meal replacement to use earlier in the day or after an intense workout.
Both of these shakes are the "bomb"   🙂
They'll definitely stave off cravings and give you the RIGHT nutrition a few hours before bed — all while maximizing growth hormone release.
Speaking of Growth Hormone…
MOST people have NO clue that longer exercise sessions actually BLOCK its release.
In fact, research proves long, boring exercise sessions can actually age you FASTER.
But it really only takes about 90 minutes per WEEK of the right type of exercise to release massive amounts of growth hormone.
But you have to do it right.
My good friends Steve and Becky show you exactly how right here:
==> 5 Easy Steps to Looking 10 Years Younger (ONLY 90 min. per week)
Hope you enjoyed today's tips!
Talk soon,
Shaun
Please share and "like" us!