It's pretty common knowledge in the health and fitness industry that you should always try to use fibrous starchy carbs instead of white ones.
For example:
 Replace potatoes with yams or sweet potatoes
 Replace white rice with brown, black, or wild rice
Well believe it or not this really a load of B.S. if you're an exerciser.
Don't get me wrong.
I still think things like sweet potatoes and other fibrous rice types are great carb choices.
But choosing a starch because it has a lower glycemic index, or because it's higher in fiber — or because it has more protein is seriously misguided advice…
Let me quickly break down a few misguided reasons most people choose to avoid white starches and pick fibrous ones instead:
Reason #1: Because they have a low glycemic index
The glycemic index attaches a number to food, which indicates how much it will raise blood sugar and/or spike insulin.
The higher the number, the higher the insulin spike. The lower the number, the lower the insulin spike.
And since it's nearly impossible to burn fat in the presence of high insulin, it would only make sense to choose lower glycemic carbs every chance you get.
But choosing lower glycemic foods gets even more complicated. Most people don't understand the difference between glycemic index and glycemic load. For example: which has the lower glycemic index number? Carrots or Ice Cream? (equivalent amount)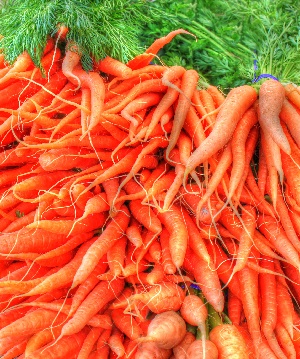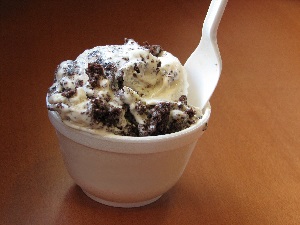 If you said carrots, you would be incorrect.
In addition, most people don't understand the difference between glycemic index and glycemic load. The glycemic index number basically becomes irrelevant when you combine any starchy carb with proteins like you're supposed (it then becomes about the glycemic load…not the index).
And since you should never eat a starchy carb by itself anyway, the glycemic index shouldn't be a concern for intense exercisers. It's a myth.
Reason #2: Because they contain more protein
Proteins from starchy carbs almost always contain gluten, which can actually block the absorption of protein and cause autoimmune diseases in many folks.
In fact, gluten is another reason I recommend people cut out almost all processed foods at least 5 days of the week. Remember, it only takes a teeny, tiny amount of ANY type of gluten to have a toxic and inflammatory effect on the body.
Even so-called healthy grains that have protein in them contain "anti-nutrients" that can be very problematic for many folks.
Additionally, you should easily be able to get all the protein you need from naturally fed animal proteins and limited amounts of dairy instead.
My advice is to stop choosing ANY impact carb because it has more protein.
That's not what carbs are for.
If you exercise intensely, you should be eating starches to:
  Prevent muscle loss and/or gain lean muscle
  Replenish muscle glycogen (i.e. stored energy)
  Fuel high intensity workouts and generate adequate ATP (your primary
energy system)
  Prevent metabolic slowdown and suppression of hormones
ALL of this will lead to more fat-loss and a healthier metabolism as long as you're exercising consistently.
Hopefully this gives you some insights on why lower glycemic carbs really shouldn't be a concern when you combine your meals properly.
In the meantime, check out this fat-burning "drink" that Karen and I use every day:
It's the "perfect" superfood cocktail made from 75 whole food sourced ingredients in their natural form and it's formulated by doctors and nutritionists:
==> The PERFECT fat-burning drink (consume this daily)
Keep going strong,
Shaun