The Pictures Below Prove this Method Works
I just returned home from an epic trip at the Biltmore estate in North Carolina with over 20 of the world's top fitness pros and I wanted to share the most powerful fat-loss strategy I discovered while I was there.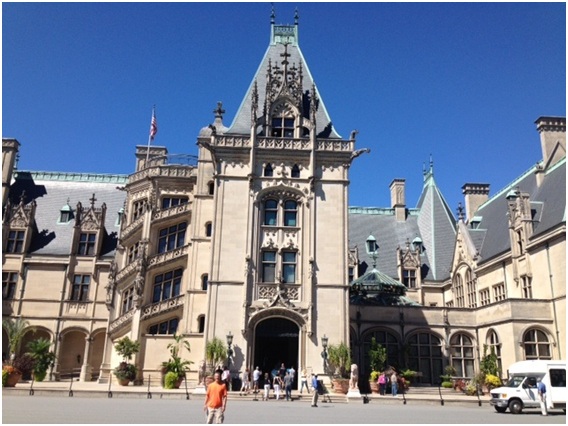 I'm the little dot in orange.
Now this might seem like a weird strategy at first, but if you use this method at least one time a week you'll get ripped. And the pictures below in this blog post actually prove that it works.
It might not happen over night, but your best body and life is virtually guaranteed if you use this strategy consistently.
And believe or not this technique has actually been around since the days of the bible so it's obviously stood the test of time – and it's nothing new.
But its power can have a profound effect on your life.
What is it?
Be Part of a Community.
As simple or silly as it may sound there's probably a really good chance you're missing out on your biggest opportunity to stay focused and consistent if you're not part of a community on an ongoing basis.
So if you really wanna get ripped, maximize your health and fat burning potential you MUST have the right social support.
Remember, you become who you hang out with.
If you spend time with negative, broke, overweight people then guess what???
YOU'RE most likely going to be negative, broke, and overweight too.
And you'll automatically see a direct correlation between your body (along with other rewards in life) and the people you spend your time with.
My trip to the Biltmore this past week is a perfect example.
Over twenty like-minded, motivated fitness industry veterans gathered together to build deep relationships, hold each other accountable, and help each other grow.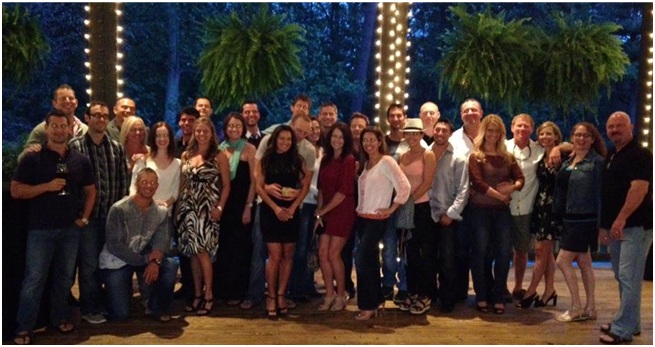 I'm the one kneeling on the left. My wife Karen is the blond right above me…you'll notice Craig Ballantyne next to her along with Adam Steer on the far left holding a glass of red wine. 🙂
It's truly amazing what happens when you get out of your comfort zone and gather with other people who have similar goals.
I can honestly say that every single person in this picture has remarkably similar goals in their lives…
…To help each other (and as many other people across the world as possible) learn, grow, maximize their potential, and achieve optimal health.
This is a key ingredient to achieving your dreams, goals, and desires.
Trust me on this. You can't go it alone!
I know for fact. I tried to go it alone for 3 LONG years with GL12 and guess what?
I FAILED.
Until I made the decision to get out of my comfort zone and engage myself in a community I went nowhere.
Then I finally built a few key relationships in my life, hired a coach, and got the right social support. Sure enough – I've been fortunate enough to reach more people this year alone than the last 5 years combined.
Like is said. Powerful stuff.
And I don't share any of this to impress you. But to impress UPON you the positive impact it can have on your life.
You should know by now that I'm nobody special and that I'm just like you.
Bottom line: If I can do it, you can do it. ANYBODY can do it.
And the bible clearly reveals it as well:
"Two are better than one,
because together they can work more effectively.
If one of them fall down,
the other can help him up…
Two people can resist an attack
that would defeat one person alone.
A rope made of three cords is hard to break."
Whether you're a believer or not, this is basic common sense.
The picture below is another great example…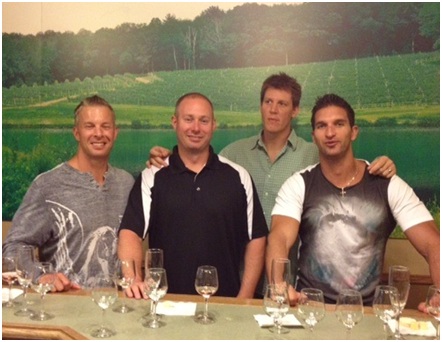 From right to left at a Biltmore wine tasting it's fitness superstars Vince Delmonte,
Joel Marion (eating cheese and looking off into lala land), Mike Westerdal,
and little ole' me with my eyes closed. 😉
I never thought I'd be so lucky to have the support of these awesome individuals.
But it just goes to show you what happens when you get involved with a community on a weekly basis.
Although every single one of us lives in different parts of the world, we still communicate at least once a week with each other to make sure we're not falling off track.
So if you're not doing this already make sure you give this a try ASAP.
Just build a few key relationships in your life and you'll flourish because you're surrounded with the right people.
It could be a social club, a fitness boot camp, or some other type of social support.
I even attend a men's small group one time per week. We talk about our struggles and our failures. We lift each other up when we're feeling down and we pat each other on the back when we do right.
We do "life" together and let me tell you…it feels awesome to have that kind of support.
The way I see it, there are 4 types of people in this world…
Those who divide your life…those who subtract from your life…those who add to your life…and those who help you multiply your efforts in life.
That's why I recommend you make a conscious decision to spend your time with like-minded positive people who share similar goals. If you do, your fat loss and your life will flourish.
And I truly believe with all my heart that if you decide to ignore social support or being part of community you could be wasting half your potential in life.
It's not a maybe offer…it's a guarantee.
THIS is how you can spread your wings and fly.
It really is as simple as this…
You're either regressing or growing – nothing stands still. So get busy living with the right people…or get busy dying with the wrong people.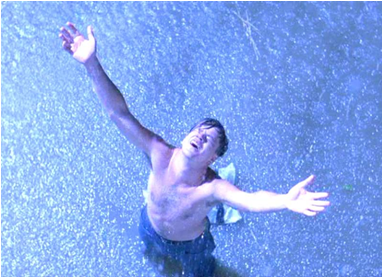 Apply this killer tip to your life now and it won't take long before you automatically attract the right circle of support.
Just like so many others…I'm living proof.
Make sure you leave me a comment below and let me know your thoughts.
Your friend and coach,
Shaun "be part of a community" Hadsall