Did you know that your subconscious mind represents 5/6 of your brainpower?
This means only 1/5 of our brain consists of the rational, conscious mind.
A crazy brain study conducted by NASA proves how your subconscious brain can directly
affect your ability to get and stay lean.
A group of trained astronauts were forced to wear concave lense glasses that made the world appear upside-down for 24 hours a day…
While they were in bed, while they took showers, while they ate, even while they made "whoopee", etc.
The researchers were trying to find out if the goggles would disorient them…similar to the same effect they would have in outer space.
 – Would it make them lose their appetite?
 – Would it make them irritable?
 – Would they lose sleep?
– Would they lose their ability to concentrate?
– Would they go crazy? (I think I would!)
But what they discovered was profound.
25 to 30 days into the experiment EVERY one of these astronauts' brains "flipped" the images right side up again.
So even though they were getting an upside down signal through their ocular nerves, their brains created brand new neural pathways to flip the image back – right side up so
they could function normally in the world.
This is a radical discovery that changes all the assumptions we've previously thought about the brain.
This means every single one of us can create…
– A new self image
– A new set of beliefs
– A new skill set
– A new habit
– A new attitude
– A new outlook on life
And you guessed it…
New exercise and nutrition habits.
But here's the kicker.
You MUST do it for at least 30 days straight.
In fact, they tried doing the same exact experiment for only 15 days, then they let the astronauts take just ONE day off from wearing the goggles and it didn't work.
They had to wear the goggles for at least 30 days in order for their brain to create new neural pathways.
This proves that you can "re-wire" your brain for success in any area if you stick to something for at least 30 days in a row.
Now you can probably see why 90% of all people who attempt to develop proper eating and exercise habits fail.
They simply don't stay consistent for at least 30 days straight.
So whenever you set out to achieve a health and fat-loss goal  – or ANY goals in life, you MUST do them for at least 30 days straight if you want the results to last.
This is how you can force new nutrition and exercise habits and rituals to become "locked" into your subconscious and become part of who you are on a daily basis.
Ok, all this sounds fine and dandy, but without a plan that actually guarantees you'll follow through for 30 days straight you'll most likely never make it.
Fortunately I discovered a simple 5 minute ritual below you can use for 30 days in a row that will automatically program your brain for long term leanness.
Here's how you can set up this simple process to guarantee you'll create new neural pathways inside your own brain.
1. Get yourself a 5×7 index card.
2. Find an old picture of yourself when you were in the greatest shape of your life and tape it on the back of the index card. This gives you clarity and vision of your target goal.
3. Next, on the front of the card, write your #1 fat-loss or fitness goal.
The goal MUST be:
– Specific, Measurable, Action-oriented, Realistic, and Time Sensitive.
So make sure you identify exactly what your goal weight, dress size, pant size, waist measurement, etc. is that you want to achieve.
Also make SURE you write in the present tense like it's ALREADY achieved.
This is BIG because it programs your "neural" pathways to believe this is how it is – right now, which means you're 10x more likely to achieve the desired goal and follow through for a full 30 days straight.
Here's an example I've used:
I Shaun Hadsall exercise intensely and eat clean, nutritious, real food at least 5 days a week and maintain 10% body fat or lower all year round in 2013 and beyond as a vehicle to be a better husband, father, and business man, which improves every other area of my life in a positive way.
Note: You can always dig deeper and use multiple 5×7 cards with goals from other areas of your life as well.
4. Next, simply block off 5 measly minutes a day with NO interruptions and read your card(s) while you visualize them already achieved.
This 5 minute ritual will program your subconscious mind to take massive action towards your desired outcome on a daily basis.
Even when the going gets tough.
I can't tell you how much more I've achieved in EVERY area of my life using this simple ritual in my life.
– Yes, I continue to mess up some things in my life.
 – Yes, I will continue to have failures.
 – Yes, I will still eat crap when I'm not supposed to sometimes.
–  Yes, I'll still be lazy when I shouldn't be once in a while.
 – Yes, I'll still make some stupid mistakes.
BUT, I stack the deck in my favor and dramatically increase my chances of success because I PROGRAM my neural wiring inside my head on a daily ongoing basis.
Now I know what you might be thinking:
"I can't afford to make time for this."
In my personal opinion you can't afford to NOT to make time for this simple 5 minute ritual.
Our world is loaded with interruptions, fast moving information, and too much technology.
ALL of this will make you go insane if you don't learn how to feed your mind with the right seeds.
Think of your mind like a garden.
If all you do is plant seeds of interruptions, negative news, and media overload on a daily basis your garden (mind) will grow a bunch of poison.
This ends up carrying over into other areas of your life in a negative way so you (and your loved ones) end up suffering.
But if you plant seeds of positive thoughts, look over your 5×7 card(s), and consistently count your blessings…
Your garden will grow a bunch of healthy fruit in every area of your life.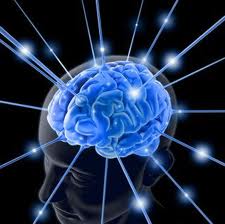 Remember, it's not a "maybe" option. It's a guarantee.
If you apply this technique for 30 days straight you'll reprogram your brain and neural wiring for fat-loss success.
Still have doubts????
Well there's actually been evidence of this fact in the Bible, long before a NASA astronaut even existed.
 Habakkuk 2:2,3 says the following: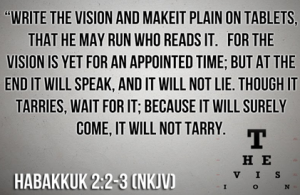 As you can clearly see your goal should be:
–        Written down
–        Acted upon
–        Set for an appointed time in the future
–        Motivates you toward the goal
–        Should not be discarded
–        Will not fail
Of course, just like any great motivational tactic, this is NOT a cure-all for life's problems and challenges.
They'll always exist at one time or another, we all know that.
But with time and consistency you'll be amazed at what can happen when you apply this simple formula to your life.
You just have to PROGRAM your mind for success, "believe" you can do it…and TAKE ACTION for 30 days straight.
Remember, anything the mind can see AND believe…it can achieve.
As "cheesy" as it may sound, I've learned from experience how accurate it really is.
So what's your take?
Do you think it's possible to "re-wire" your brain for faster fast-loss??
Please comment and let us know your thoughts.
Your friend and coach,
Shaun "write the vision" Hadsall