Fat Loss Plan and Consistency are the Keys:
Today I want to quickly share the #1 mistake I see people make every year when they're trying to stay lean through the summer…
My wife is guilty of making this mistake almost weekly.
And even though this stupid mistake is totally normal, it's critical that you grasp its importance because it will position your body AND mind perfectly for faster fat-loss this summer.
So please pay close attention to this short, but eye-opening fat loss lesson.
First things first.
You MUST see the BIG picture.
We all have different genetics – right?
Right.
But we all need to be reminded of this undeniable truth:
A young man between 20 and 30 years old is going to get serious results from his fat loss plan a heck of lot faster than an aging female who has dieted for years, damaged her metabolism – and has hormones that are all out of whack.
Seems obvious, I know.
But if you're a female and this somewhat describes you, just be patient enough to understand your metabolism is going to be a little more stubborn because you have other
genetic factors working against you.
So KEEEEP going on your fat loss plan. Even when you feel stuck.
You'll get your break-through if you stick it out.
Guys too! I know it's a helleva lot harder for me to burn fat at 42 than it was just five years ago.
Yes, it sucks.
But that's life. It's the hand we've been dealt so we have to learn how to play it right.
So the first lesson is to set yourself up with the right expectations for your fat loss plan and see the big picture.
Health and fat-loss is a journey, NOT an event.
Once you've set yourself up for the long haul with proper expectations the next move is to take action and strive for consistency…NOT perfection.
There's no such thing as being perfect when it comes to health and fat-loss.
How do you eat an elephant?
ONE bite at a time.
Treat your fat-loss plan the same way. One day, one week, and one month at a time. And don't hop around from plan to plan looking for greener grass.
Remember, the longest way is a short cut.
You're never going to be perfect following a fat loss plan, but do your best to be consistent with ONE plan and it will pay off.
I've seen it for years…most people set their expectations way too high because they compare themselves to a swimsuit or fitness model, some Hollywood Celebrity, or even a good friend that has the "skinny" gene.
I'm sure you can relate.
I know from my own personal experience of being involved in the talent and fitness modeling industry that you can usually only hold the "peak" moments that you see in photographs for a few hours at a time, a day or two at the most.
Unfortunately, after photographers "capture" these moments, they hand them off to big companies, advertisers and marketers who trick us into making us feel like we should be able to look this way all the time.
Not true, OR realistic.
Think about how many times you've seen a famous model or actor on the cover of a magazine or on a commercial looking out of this world.
Then a day or two later while you're buying groceries you see them "caught on hidden camera" with all their physical flaws exposed by some gossip magazine or publication.
That's because they're using the UNREALISTIC methods that my buddy, and "under the radar" stubborn fat loss expert Caleb Lee talks about in the video below:
Avoid these fat-burning mistakes (they're killing your results AND making you fat)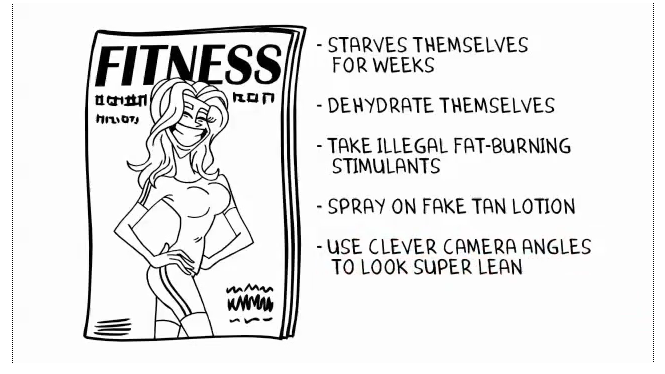 He also uncovers LEGITIMATE (and "all natural") methods you can use to get similar results WITHOUT using all the extreme and "unhealthy" methods you see above.
And even though he's only in his twenties, he's been a black belt for over a decade now and is one of "those crazy guys" (like me 🙂 who has been obsessed with helping people get and stay lean since he was about 12 years old.
You can see his "unusual" approach along with 3 of the BEST foods you can eat to kill belly fat by clicking this link:
3 unusual foods that KILL belly fat <—– click here
CONCLUSION
Whether it's a peak moment caught on camera or airbrushing, remember to compare yourself with yourself and your past accomplishments.
This is the only way, in my opinion, to make all of this a rewarding experience.
Pursuing health and fat-loss is an opportunity for life changing breakthroughs along with physical and personal growth.
So it's no doubt an important anchor in your life that needs to be a priority.
But if you're like most of the world, you're busy and you probably spend most of your time and energy committing to other people and responsibilities besides yourself.
Make sure you block off time to plan ahead and make time for YOU.
Schedule your nutrition and exercise first…so you can give everybody else your very best.
This is not a selfish thing to do. You'll find the reward will carry over into other areas of your life in a very positive way.
Additionally, your confidence will soar because you'll end up looking great too!
I have to remind Karen on a weekly basis that she's "hotter" than 95% of all the fifty-somethings on the planet.
This helps her stay focused on the proper expectations and helps her avoid comparing herself to all the 25 year old hard bodies she sees on TV or at the beach.
Hopefully this helps you put things in perspective for consistent summer fat-loss.
And if you really want "Hollywood Celeb" type of results, WITHOUT damaging your body or going crazy, just follow the *free* tips inside Caleb's presentation:
3 foods that KILL belly fat fast (eat these foods daily)
Keep going strong,
Shaun
Please share or "like" us!