3 KILLER Blog Posts You Can Use RIGHT NOW to Dramatically Accelerate Your Fat Loss…
==> Burn Fat Like a Gazelle (Stop being a turtle and a hamster)
==> Sequence Your Cardio and Bust Through Your Exercise Plateaus
==> 12-Minute H.I.R.T. Workout Video (Hybrid Fat Loss "LIVE" In-Action)
Here are some random cool pics from our 2-week getaway in Jamaica.
If you ever go to Jamaica, we highly recommend you stay in Negril on Bloody Bay. We've been there a few times and it's always a fantastic experience. Karen has been to Ochoa Rios and Montego Bay and she says it's not nearly as nice. It's more of a tourist trap in most cases. I'm sure there are exceptions because the Jamaican people are fun and happy people who love to serve you anyway they can. Ya MON! Respect.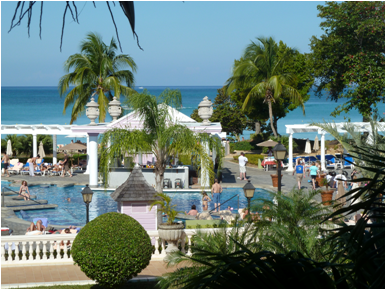 Pic 1:
This was the view from the lobby of our hotel. We had beautiful weather the whole time we were there. A few clouds here and there (and even a little rain) but overall it was phenomenal. Usually 85 to 90 degrees with sunshine.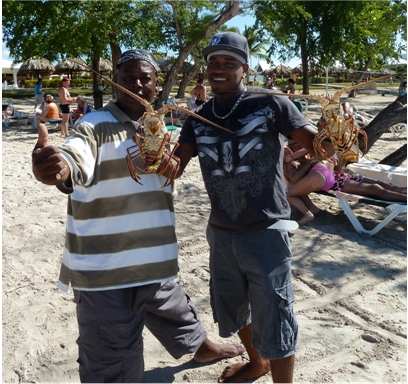 Pic 2:
While Karen and I were walking the beach, we came across these Jamaicans who were catching fresh lobster out of the ocean and then barbequing it for you right on the beach. The timing wasn't right for us, but talk about fresh seafood!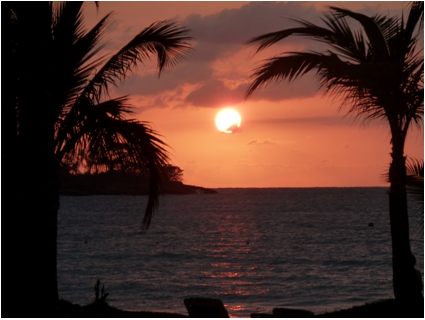 Pic: 3:
One of the cool things about Negril and Blood Bay is the sun sets right over the water, but unfortunately it was cloudy almost every night. This was the one night it wasn't and I grabbed this awesome shot.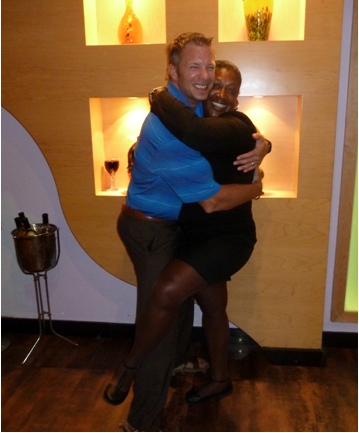 Pic: 4:
Here's a pic of me getting some Jamaican love from our favorite waitress, Althea. Once you treat a Jamaican good, you have a friend for life.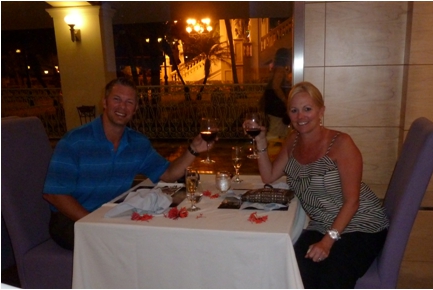 Pic: 5:
Karen and I enjoying little pre-dinner wine. Althea took this shot for us. She reserved us a spot in the private steakhouse 3 nights while we were there.
I love steak, but ironically my favorite part of the dinner was the dessert. It was chocolate upside down cake filled with hot fudge, served next to a scoop of vanilla ice cream on a bed of Oreo cookie crumbs. Can you say…"cheat food"? It was heavenly and I had no problem finishing off Karen's. 🙂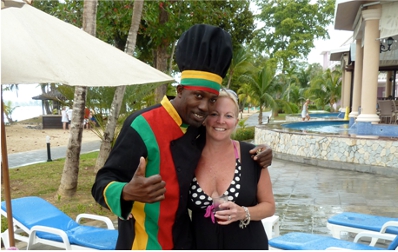 Pic 6:
Karen hanging with her main man Ricardo. He was our cook at the Jerk Chicken hut. Everyday he cooked wood grilled chicken with Jerk sauce (this stuff will make your nose run even in 90 degree weather, but it's deeeeelicious), rice and beans along with cabbage to go along with it. It was awesome.
Karen even got Ricardo to deliver us a big bottle of authentic Jamaican jerk sauce for home (not the stuff you buy in stores…this is the real deal). That's when I snapped this picture. Ya mon!
Thanks for checking out our pictures and reading about our trip! Now it's time to click the links above and get to work on that body. I know we sure need it after 2 weeks of indulgence.
Enthusiastically,
Shaun