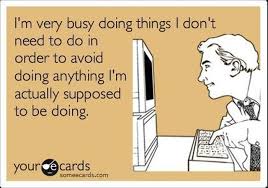 Are you the type that gets an important project to complete and you diligently work on organizing how you are going to meet your deadline?
Uh, probably not!

Let's define procrastination:
(noun), the
act
or
habit
of
putting
off
or
delaying,
especially
something
requiring
immediate
attention:
For example. you know you have to balance your checkbook and the thought of doing that is so daunting that you end up cleaning the house instead.
While cleaning the house is important — not cleaning it will not hurt you like bouncing the check and  getting overdrawn will.
According to clinical psychologists, procrastination is connected to low self confidence.
The consensus is that the predominant reason we procrastinate is a breakdown in our self-control. You know what you ought to do and you're not able to bring yourself to do it. It's that gap between intention and action.1
Procrastination is worse when there are no deadlines.
So…what do you do in that case?
You may be a chronic procrastinator or a situational procrastinator.
Chronic procrastinators have perpetual problems finishing tasks.
Situational procrastinators delay working on projects based on the task itself.
At the fundamental core, we procrastinate when we allow ourselves the emotional pleasures of the moment to have more influence than the perceived unpleasant emotional payoff of the task at hand. 
This is how we procrastinate:2
Avoidance: Where we avoid the location or situation where the task takes place. (Avoid going to the gym)
Distraction: Where we engage in other behaviors or actions to prevent awareness of the task (e.g., reading blogs instead of the specific task).
Trivialization: We convince ourselves that what we have to do is not that important (e.g., I know I need to pay the bills but I'll get to it later).
Comparisons: We compare our situation with those that are worse (e.g., I know I'm not watching what I eat but I'm thinner than all my friends).
Humor: Making a joke of our lack of achievement and procrastination. (e.g., "I'm just too horizontally challenged (fat) to get that promotion").
External Blaming: My procrastination is due to external forces beyond my control (e.g., I'm waiting on better weather before I mow the lawn. )
Reframing:  Leaving the work to the last moment will produce better results (e.g., "I do better under pressure so I'll wait").
Denial: Pretending that you're not procrastinating, because the task you are doing is actually more important than the avoided one.
Laziness: Procrastinating simply because one is too lazy to do the task.

[pro_ad_display_adzone id="8825″]
One of the greatest things you can do if you procrastinate is to see why you procrastinate…
Write out the reasons why…
Which from the above list do you find yourself doing?  Then state the fact that you procrastinate:
I procrastinate because: __________________
Knowing "why" will get you on the way to trying to figure this out.  And hopefully not…tomorrow!  🙂
Shaun
Reference:
1 http://www.mindfithypnosis.com/what-is-procrastination/
2 http://www.mindfithypnosis.com/what-is-procrastination/