Arm Workouts | Up and Down the Mountain

Up and Down the Mountain Arm Workouts: CLICK here To Get Your FREE 3 Day Rapid Fat Loss Blueprint you can use to legitimately "target" stubborn FAT and make it your body's primary, fat-burning hormone
This is a great technique to use AFTER you have trained a particular muscle group.
It's called Up and Down the Mountain (or Run the Rack when using dumbbells)
In this video blog, Shaun Hadsall is using the triceps push-down
(arm workouts) for the demonstration (but it will work
for any body part).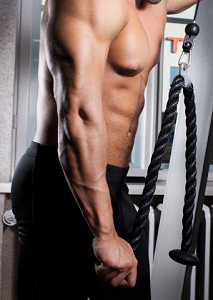 This technique has been proven to stimulate more fat burning hormones and accelerate your metabolism.
It can elevate your metabolism for up to 24-48 hours
after this particular technique.
So many people think "All I have to do is cardio and
eat right!" Right? WRONG! You must include weight
training.
After you are done with your particular body part
routine, pick a weight where you can do 8-12 reps.
Here is the technique: (Arm Workouts)

UP the Mountain:
Set 1: 8-12 reps (choose a weight)
Set 2: go up in weight (1-2 plates) for 8-12 reps
Set 3: go up in weights (1-2 plates) for 8-12 reps
(Should be burning lactic acid now!)
DOWN the Mountain:
Set 4: go down in weight (3 plates): 8-12 reps
Set 5: go down in weight (1-2 plates) 8-12 reps
Set 6: go down in weight (1-2 plates) 8-12 reps
Try this with any body part for a greater lactic acid burn and an acceleration of your metabolic rate.
Don't Forget: CLICK here To Get Your FREE 3 Day Rapid Fat Loss Blueprint you can use to legitimately "target" stubborn FAT and make it your body's primary, fat-burning
For more great Videos as this on Arm Workouts or others on Fat Loss, Motivation and Tips, be sure to check out our YouTube Channel and become a subscriber!
Carmen Z.
Youtube Reviewer for
Get Lean in 12
image courtesy: www.Dreamstime.com