Eliminate Your Turtle And Hamster Mentality To Transform Yourself Into
A Lean And Mean Fat Burning Gazelle…
In the last blog article, we introduced you to the 3 PROVEN pillars of fat loss.
Today we're back (just like we promised) to give you an example workout from each individual Pillar (animal) so you can transform your turtle and hamster mentality into that of a short burst, fat burning gazelle.
And we're not talking about a Tony Little-style Gazelle here either. This isn't some gimmicky philosophy. This IS the real deal.
Remember that if you want to be a real fat-burning Gazelle, you will sometimes act like a hamster (Pillar 1). This is for recovery purposes and to prime your metabolism to burn more fat when coming out of your turtle shell to act like a Gazelle (Pillars 2 and 3).
Also, it's crucial that you incorporate some type of resistance training like weights or MRT (Metabolic Resistance Training) into this plan if you really want this to work. We know this is kind of obvious to most of our readers; we just wanted to make sure we didn't leave it out.
Speaking of metabolic resistance training (MRT), one of the world's best metabolic resistance training experts (our "go to" guy and friend), recently shared some of his best stuff with us…you can learn more about how to use it at the end of this post.
Before we give you some sample workouts, remember that you'll never see results unless you understand the number one component of fat loss. What is it? One word.
INTENSITY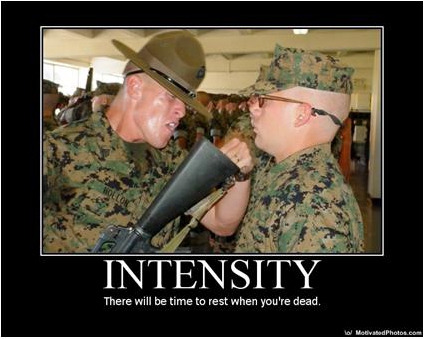 Without applying proper intensity you'll simply be stuck in your turtle shell or be trapped forever on a hamster wheel. (Ok. Enough of the animal analogies already 🙂
Are you intimidated by intensity? If so, relax. You're not alone.
Here's the key. Apply our intensity scale below to YOU personally.
Your current age…your gender…your current level of condition (or any other limitations you may have).
*GL-12 Intensity Scale
Level 1 = Warm-Up or Slow Pace
Level 2 = Jog or Medium Pace
Level 3 = Run or Hard Pace
Level 4 = Fast Run or Very Hard Pace
Level 5 = Sprint or All Out Burst (based on your current level of personal condition)
*Intensity levels are different for every person and are based on your current condition, age, gender, or other limitations, so please gauge your intensity level based on where you're at right now personally. You can also apply this scale to other types of exercise besides running or sprinting.
IMPORTANT: Always warm-up and cool down for 4 to 5 minutes minimum
PILLAR 1: Aerobic/Endurance (Steady State Cardio)
In the aerobic pillar, oxygen is used to break down fatty acids and glucose to release energy. In other words, oxygen is primarily present so you can go for longer durations at a steady pace and the majority of fat calories burned happens during the workout itself.
Just remember: Aerobic means with oxygen and anaerobic means without oxygen.
| | | | |
| --- | --- | --- | --- |
| | Beginner | Intermediate | Advanced |
| Duration: | 30 minutes | 45 Minutes | 60 Minutes |
| Intensity: | Level 1 to 2 | Level 2 | Level 2 to 3 |
PILLAR 2: Threshold (Intervals)
This is the pillar just above Aerobic training. You can typically stay in this anaerobic pillar for 2 to 5 minutes at a time before letting your heart rate come back down and recovering.
This pillar has several important benefits.
Research shows that threshold training allows your body to respond continuously from the aerobic type training discussed above.  This is important to know because so many people hit a wall when they get stuck in the aerobic pillar (a.k.a. the hamster wheel).
It will also help you burn more fat and calories when incorporating a base of pillar 1 and pillar 3 along with it.
Beginner

Intermediate

Advanced

Duration:

30 minutes

40 Minutes

40 Minutes

Intensity:

2 min @ 3
2 min @ 1
(repeat x 5)
3 min @ 3-4
3 min @ 1
(repeat x5)
3 min @ 4
3 min @ 1 or 2
(repeat x 5)
PILLAR 3: Creatine Phosphate (High Intensity Bursts or Intervals)
Gazelle time!
Lastly is creatine phosphate (Get Lean In 12 intervals and H.I.I.T.). This system can only support high intensity effort for 15 to 60 seconds at a time.
The main thing to remember with Get Lean In 12 intervals and H.I.I.T. workouts is that although they are only 12 to 20 minutes in duration, they will increase both the "aerobic" AND "anaerobic" systems at the same exact time.
This is typically unheard of when it comes to exercise. Also, study after study shows your metabolism will be elevated for up to 48 hours from just one pillar 3 workout.
Again, just remember the "more" is not "better" GL-12 philosophy. Doing a bunch of pillar 3 workouts every week is not the answer, but it definitely yields the most results for the time invested.
Continuously using all 3 pillars is the solution.
Beginner

Intermediate

Advanced

Duration:

20 minutes

12 Minutes

12 Minutes

Intensity:

1 min @ 4
2 min @ 1
(repeat x 5)
30 sec @ 4-5
30 sec @ 1
(repeat x 5)
20 sec @ 5
10 sec @ 1
(repeat x 8.)
It's nice to know that the time and effort invested into pillar 3 will still be working up to 2 days later…even while you're sleeping. Now that's a beautiful thing!

One final note on Pillars 2 and 3.
Feel free to walk briskly for 10 to 30 minutes afterwards if time permits. A lot of research shows this will help the heart utilize oxygen properly and enhance fat loss by burning off the Free Fatty Acids that your body will release during high intensity bursts of exercise.
The strategy above is how we personally went from exercising 8 to 10 hours every week, alllllll the way down to just 4 or 5 hours a week. Ironically, we doubled our results at the same exact time. I know we've beaten this drum to death, but more is NOT better. Got it?
There's one more final strategy that will help you maximize your body's natural fat burning potential with this approach. We call it "sequencing".
When you use this approach sequentially in the proper order, you can force your body to feed on more fat.
At least 20 comments and we'll be back in a few days with the exact weekly exercise schedule you can use to make all 3 of the PROVEN pillars work together synergistically and sequentially.
There's more metabolic trickery coming your way in a couple of days. But you have to leave your comment and we'll be back to help you cross the finish line.
Committed to your fat burning success,
Shaun and Karen
P.S. If you want to learn how to use this exact same approach (at home or anywhere) with resistance training, just check out Metabolic Resistance Training guru and expert (and friend of ours) Craig Ballantyne's bodyweight cardio…
Never miss a workout again with super fast in-home MRT workouts that blowtorch body fat <—— Click Here