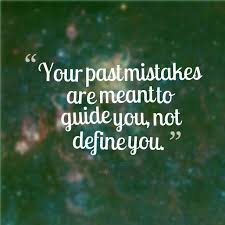 There are plenty of things from my past that I regret saying and doing.
But I won't let it define who I am.
You see… I wouldn't take back ANY of the stupid stuff I've said and done because it's made me who I am today.
Truth be told, we ALL have a bundle of flaws and imperfections: physical, emotional, intellectual, and spiritual.
The most important issue is what we do with them. Usually we deny them, defend them, excuse them, hide them, and resent them.
But this prevents us from using them to make us better. Your mistakes and weaknesses are NOT an accident.
They ultimately define who you are. You can either let them bring you down, or you can use them as motivation to be a better person.
I consider my mistakes and weaknesses my greatest blessings in life because they prevent arrogance and keep me humble.

[pro_ad_display_adzone id="8825″]
Here are 4 ways I've discovered that have helped me deal with my weaknesses and past mistakes.
First, admit your weaknesses.
Own up to your imperfections and STOP pretending like you always have your "poop in a group" 🙂
Be honest with yourself instead of living in denial or making up petty excuses.
We're all human.
Second, be content with your weaknesses!

Your greatest strengths and successes will most likely come from your past mistakes and shortcomings.
They will also increase your capacity for sympathy towards others. Plus you're far more likely to be compassionate
and considerate when people you care about screw up and hurt you.
Next, honestly share your weaknesses.

Most people are afraid of being vulnerable. As a result, they miss out on the chance to help others. The more you let down
your guard and share your struggles, the more rewarding your life will be. Yes, it can be scary. When you reveal your
failures, feelings, frustrations and fears, you risk rejection and judgment.  But the benefits FAR outweigh the risks.
Lastly, see the strength in your weaknesses…
There's ALWAYS a gift wrapped up inside EVERY mistake we make and every weakness we possess. But it's our job to recognize
and learn from it. So the next time you mess up by making a mistake…Instead of nibbling on nails, pacing the floor, boozing it up,
or taking pills…
…Remember it's really a blessing in disguise.
Your life will work best when you admit your weaknesses and own up to your mistakes. It's another secret of the fat-loss journey.
Shaun