How You Can Burn 3 to 5 Pounds of PURE Fat EVERY Week…
In a minute, we're going to tell you how to get your hands
on a free copy of the brand new 7-Day Diet 2.0.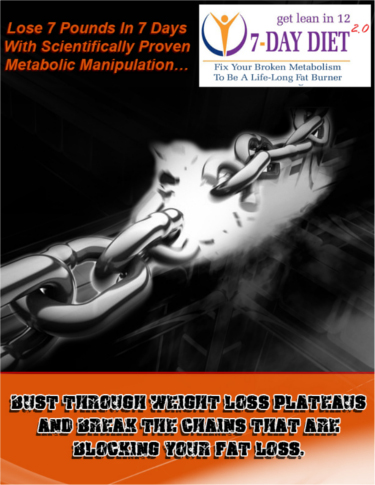 But first, Karen and I are really fired up and excited about a new program we started today called the 1,000 Calorie Challenge.
This program is designed to help you build up – over time – to burning 1,000 calories from each and every workout (done 3 times a week). It's also about creating a massive calorie deficit (in a very healthy, science based, and strategic way) to burn 3 to 5 pounds of PURE fat every week.
As crazy as this may initially sound, stick with me because there's actually much more to this new program than just intense workouts.
This fat burning system is not "officially" available to the public until tomorrow (Tuesday, October 19th) but since I'm buddies with the creators Joel Marion and Arnel Ricafranca, I've had the opportunity to preview the product over the last week before it gets released the general public.
I've been able to read over everything and even take the workouts for a test drive. (Just watch the video above to see Karen and I doing one of these intense workouts "live" in-action.) You can actually go try it for yourself and you'll immediately see what we mean.
Karen and I also got really excited when we looked over the meal plans and recipes. It has a nutrition component that's a LOT like advanced macro-patterning. This system has built in strategic cheat days combined with moderate (baseline) days and even 1,000 calorie diet (carb down/deplete) days.
New workouts, new meal plans, new recipes, and the science to back it all up. Folks, we have a winner!
Other important things that we love about this program:
1. Anybody at ANY level can do this program because of the built in S-Progression technology. In other words, the program is designed to ramp up intensity week by week based on your own personal condition and fitness abilities. This was crucial in order for us to support this product.
The diversity of our subscribers ranges from young people in their twenties all the way up to the 60 and over crowd. In other words, no matter where you're at, we gotcha covered.
2. Science, science, science. This program is science based. One thing I love about my friend Joel is that his beliefs about metabolic bursting and intervals, along with macro-patterning your nutrients are identical to our beliefs here at GL-12.
Once I read through the entire training and diet manual I knew we had a winner because it's backed by real science and it provides EVERYTHING we believe in.
3. Efficiency. You'll get more results in less time and you'll do it while programming your metabolism to be a life-long fat burner. Right up our alley…and yours.
4. NO rebound weight gain. This isn't a diet; it's a strategically designed fat loss "system". In other words, once you're done applying this system, you'll be provided with a de-loading (recovery) phase. This means you'll be able to start the program over again, or move on to other strategic fat loss systems like our advanced macro-patterning without worrying about ANY of the rebound weight gain that's so common place with today's fat loss gimmicks.
5. Variety and fun. This program is fun to follow and has a ton of variety provided in both the exercise and nutrition components. It was a breath of fresh air to find a new way of exercising and eating that still falls in line with our beliefs.
Now hopefully you can see why we're so excited about the release of this product.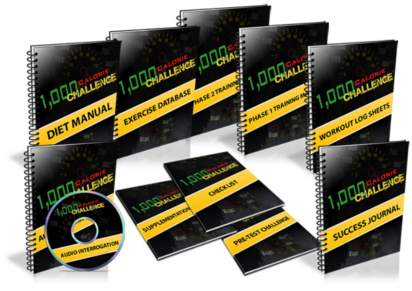 There's actually a LOT more to this system (as you can see above), but I don't want to spoil the surprise.  Again, the program is released tomorrow via closed door VIP invitation tomorrow.
Now the real exciting news.
When you buy the 1,000 Calorie Challenge directly from our VIP closed doors invitation only link that we provide you with in tomorrow's email, we'll email you a digital copy of our Brand New 7-Day Diet 2.0.
Why? Because the very first goal of the 1,000 calorie challenge is to deplete glycogen stores, but it could take a week or two of intense workouts to achieve this, UNLESS you have some metabolic trickery up your sleeve. That's where we come in to help you out.
We know that once you get your hands on the 1,000 Calorie Challenge you'll be excited to get going, but it will take you a good 5 to 7 days to plan and prepare for this new system.  While you're preparing, you can use our new 7-Day Diet 2.0 Advanced Depletion to get a head start.
This way, the second you start the new 1,000 Calorie Challenge workouts you'll know (for a fact), that your glycogen levels are depleted and your metabolic triggers are primed and ready to burn fat. So instead of taking a week (or maybe two) of intense workouts to get into some serious fat burning, you'll be there now.
I'm confident that if you go through this entire program, you'll honestly be in the best shape of your life.
I don't think Karen and I have been so excited about a new program since we discovered Wendy's famous plans a couple years ago.
So keep your eyes out for an email from us first thing tomorrow and make sure you use our special VIP invitation only link so you can take advantage of this exciting opportunity.
Talk soon,
Shaun
P.S. Don't forget to watch the video above so you can sample these killer workouts and see what they're all about.
You can also see what other people like you are saying about The 1,000 Calorie Challenge and get all the launch updates by visiting this link:
What are OTHER people saying about the 1,000 Calorie Challenge? <————- Click here