If you're over 40 (or approaching the traditionally dreaded "4-0"), you've likely learned that you need to eat, exercise and sleep far differently than you did when you were in your 20s and early 30s.
But does your personal trainer know these things?
A lot of younger or newer personal trainers and fitness professionals completely miss the boat when it comes to customizing workout advice and nutrition plans for their over-40 clients.
Here are three of the most common "lies" told by your 20-something personal trainer when it comes to losing weight and gaining strength past 40.
1) The key to losing weight is to exercise more (cardio, cardio, cardio!)
The most common fallacy from fitness professionals and personal trainers is that if you want to lose weight and burn belly fat, you need to exercise in your "target heart rate zone" for AT LEAST 30 minutes or longer.
There are much better ways to burn fat in much less time.
Plus for those over 40, these types of exercise will have your body burning carbs and sugars instead of burning off your stubborn belly fat or firming up your trouble spots.
So each session your trainer puts you on that treadmill, elliptical machine or bike for half an hour or longer, your body might be gaining endurance, but it will also be busy fighting a losing battle when it comes to weight loss.
And the bad news doesn't end there — recent studies have shown that extended-duration exercise:
Increases the stress hormone cortisol, which has been associated with increased chances of heart disease, cancer and visceral belly fat (the most DEADLY kind of body fat) [1]
Inundates your body full of free radicals, which attack your cells, causing rapid aging inside your body and damaging your skin, making you look much older than your true age [2]
Leads to increased hunger, as those over 40 who use regular exercise end up eating on average 100 calories more than they just burned off from the exercise [3]
Makes you gain weight around your stomach, hips and thighs because it turns off your body's primary fat burning gland, your thyroid [4]

2) If you want a better-looking belly, make situps and crunches your best friend.
There are so many better options for strengthening your core and firming up your belly, but if you tell your personal trainer you want a flatter belly or six-pack abs, they'll almost inevitably start you off with old-fashioned situps and crunches.
So, while exercises like planks and plank variations, reverse crunches, medicine ball slams, ab wheel rollouts, hanging leg raises, woodchoppers, stability ball pikes and knees to chest and more are far better — and safer — for toning your abs and preventing potential back injuries, especially for the over-40 crowd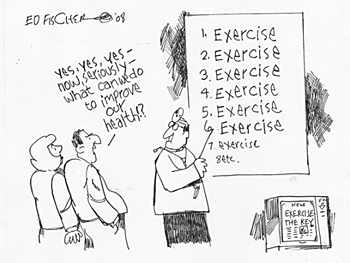 , don't be surprised if your personal trainer steers your in the situp / crunch direction instead.
So why exactly do you want to avoid situps and crunches? The repetitive, loaded spinal flexion involved in these ab exercises places excessive loads on the lower back and is one of the leading causes of herniated discs.
That's why many of the world's top lower back and ab experts, like Dr. Stuart McGill, now recommend you avoid performing sit-ups and crunches because of the devastating load they place on the discs.
3) You need to eat before and right after exercise to maximize your results.
When you're in your twenties you can still get away with eating things like processed foods and refined-sugar items without seeing the effects in most cases, and you can even eat more of the healthier foods without it impacting your belly quite as much.
The same can't be said for your metabolism once you hit 40 — something most new and younger personal trainers have a hard time grasping at this stage of their career.
And while eating a balanced meal before exercise or loading up on a protein-rich meal right after working out are two pieces of advice often highly recommended by young personal trainers and fitness professionals, if you're looking to lose weight and are over 40, they can actually STOP or slow down your body from burning fat.
That's because even when you eat healthy food before exercise, you'll still end up raising your insulin, which is your body's primary fat-storing hormone.
So if you are over 40 and want to MAXIMIZE your fat loss, what you eat and when you eat can make a huge difference.
For example, if you exercise first thing upon waking up in a totally "fasted" state, or time your workouts to be at LEAST 3 to 4 hours after you eat,  you can GREATLY increase your fat burning during and after your workouts.
The key for those over 40 looking to burn belly fat comes from performing short, strategic exercise bursts on an empty stomach, which activates your body's fat-burning processes when your fat-storing hormones are at very low levels.
How You Should be Training and Exercising to Lose Weight When You're Over 40
Ok, so what should your personal trainer be advising you to do when you're over 40 and looking to lose weight, get in shape, and reverse the signs of aging?
The key is a unique three-stage program called Metabolic Zone Training™ that will have you burning fat and calories off your body as you work out in short, specific sessions and eat the right types of foods at the right times.
And even better, your body will continue to burn off fat and calories for up to two full days after just one short 4-minute session.
And four minutes of Metabolic Zone Training™ performed just four times a week has been shown to improve your anaerobic capacity by 28% and your aerobic power by 15% in as little as six weeks.[5]
Discover many more secret tips and tricks for losing weight when you're over 40 by clicking below:
How ANY Man or Woman OVER 40 Can Instantly SHRINK and INCINERATE
Stubborn Fat Cells In 12 Minutes FLAT

References
(Skoluda, N., Dettenborn, L., et al. Elevated Hair Cortisol Concentrations in Endurance Athletes. Psychoneuroendocrinology. September 2011.)
(Sonneville, K.R., et al. (2008) International Journal of Obesity. 32, S19-S27.)
(Cakir-Atabek, H., Demir, S., Pinarbassili, R., Bunduz, N. Effects of Different Resistance Training Intensity on Indices of Oxidative Stress. Journal of Strength and Conditioning Research. September 2010. 24(9), 2491-2498.)
(Eur J Appl Physiol. 2003 Jan;[masked]):480-4.)
I. Tabata, et al., "Effects of Moderate-Intensity Endurance and High-Intensity Intermittent Training on Anaerobic Capacity and VO2max," Med. Sci. Sports Exerc. 28.10 (1996) : 1327-1330.