I'll never forget the day I learned about how to use the secret diet and exercise combo below…
It was responsible for me dropping 18lbs of belly fat, while gaining 5lbs of lean muscle at the same time. By the time all was said and done I was at 5% body fat…
Just look at how insanely ripped I was after using it for only 90 days: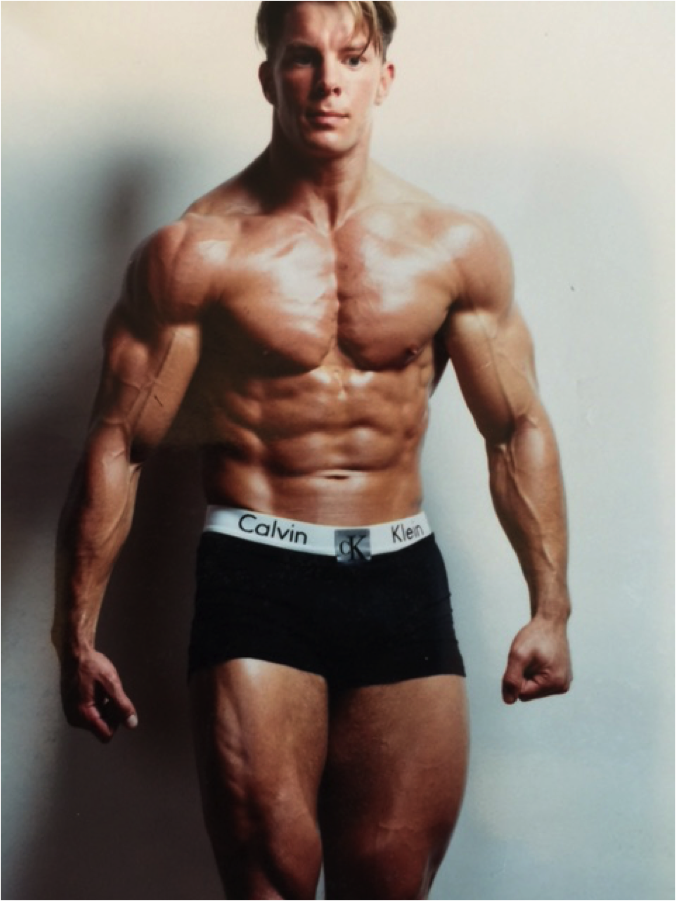 Even though I was younger (this was way back in 1998), to this very day I continue to use this strategy because it works even better now that I'm 45 years old.
Here's a recent selfie I took…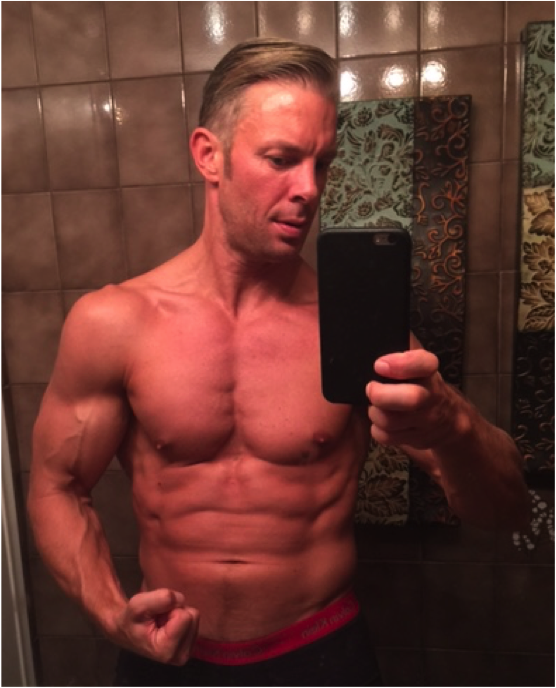 Of course, I'm not sharing these pics to "impress" you, but to impress upon you the power of making this diet and exercise combo a part of your weekly regimen.
I'm talking about combining intermittent fasting WITH strategic high intensity exercise.
Both of these strategies can be VERY powerful when used solely on their own. However, when you combine these two together the proper way—you can literally triple your fat loss.
This is one of the staples of my Flexible Rapid Fat Loss Handbook, The 16/8 Siesta Key Beach Diet. It's the PERFECT plan to follow during the summer (or anytime you want to abandon your diet) and it's on sale for the next few days.
In fact, both of these strategies actually "mimic" each other in some very remarkable ways to increase your fat burning power.
For example:
BOTH strategies keep insulin levels ridiculously low, which keeps your body in fat burning mode.
– Food intake is the primary cause of insulin spikes, so lower insulin levels are simply a byproduct of intermittent fasting since you're not eating for periods of 14 to 16 hours at a time.
– High intensity exercise bursts have been shown to lower insulin and keep blood sugar levels stable for several hours afterwards, leading to more efficient fat burning and weight loss.
BOTH strategies increase Growth Hormone production in a BIG way.
– Intermittent fasting increases your body's "fight or flight" response (your sympathetic nervous system), which is a precursor to increased GH production and releasing stubborn fat cells.
– Similarly, high intensity exercise bursts can increase Growth Hormone production by as much as 450-700% when proper intensity is applied—helping your burn more belly fat.  
Both strategies increase your energy, focus, and brainpower.
Adrenaline and neurotransmitter production increases anytime you use intermittent fasting or high intensity exercise bursts.  
– The extra neurotransmitter production from intermittent fasting has been shown to increase energy, focus and concentration[1]… and it's even linked to prevention of Alzheimer's[2] and reduced inflammation[3].
– Adrenaline is also released by the adrenal glands during high intensity exercise protocols, which is a precursor to helping you release stubborn fat cells into the bloodstream where they can be "burned off".
Now you can probably see why using intermittent fasting WITH high intensity exercise bursts is one of my ALL TIME favorite fat burning combos.
When you combine all these benefits together, it creates the perfect fat-burning storm inside your body.
Now you just have to know how to do it RIGHT, so you can reap the full benefits.
And that's exactly why Karen and I created:
The World's MOST Flexible Rapid Fat Loss Handbook—The 16/8 Siesta Key Beach Diet.
It shows you how to use this combination properly so your body has NO other choice.
It MUST lose fat in the fastest way possible.
I personally use this particular strategy about 4 to 5 days of the week when it's time to get serious.  
That my friends, is one of the many ways you can literally TRIPLE your fat loss by combining intermittent fasting WITH strategic high intensity exercise bursts.
It's never easy, but it's always worth it when you have a proven plan.
Give it a shot and let me know how it works on your body (remember, it's on sale for the next few day and it's NEVER been offered to the general public before):
==> Experience Your FASTEST Fat Loss EVER by Combining Intermittent Fasting WITH Strategic Exercise Bursts: The 16/8 Siesta Key Beach Diet
COMING TOMORROW: I'll uncover the mountain of research and scientific evidence showing just how powerful the 16/8 protocol is.
Stay fit and keep growing.
Your friend and coach,
Shaun 
References:
[1] http://www.ncbi.nlm.nih.gov/pubmed/11220789
[2] http://www.ncbi.nlm.nih.gov/pubmed/17306982
[3] http://www.ncbi.nlm.nih.gov/pubmed/17291990/