There is a simple 15 minute ritual you can use weekly, that requires absolutely NO exercise OR dieting, yet it can help you nearly DOUBLE your calorie burn after a workout. It's something I try to do at least 4 or 5 days every week, and after reading this, I'm confident you'll want to join me.  And just so you know – I've never used this 15 minute secret to intentionally get these added benefits.
I love my sauna time. It's the time of the morning I focus and think through my day. I call it my Hour of Power. But did you know that the sauna can also help you lose some fat (and not just water weight)?
The theory goes somewhat like this: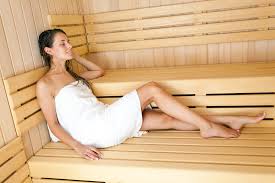 Sweating and overheating forces your body to work harder, (raising metabolism) your heart to pump faster and so, this activity can help weight loss. The dry sauna increases your circulation; makes you sweat and helps you shed salt and water, allowing you to lose extra weight.
So here are a few benefits:
Flushes toxins: 
This ritual can help reduce levels of unwanted toxins picked up from the environment. These toxins have been proven to increase BAD estrogen levels in the body, which can negatively alter hormones…and have all kinds of other nasty side effects.
Rinses and cleanses:
Your skin's epidermal layer and sweat ducts. Cleansing of your pores gives your skin a soft, beautiful appearance.
Improves your sleep patterns:
Studies have shown that sauna time will keep cortisol (stress hormones) at bay, help with exercise recovery, overall weight-loss AND productivity.
INCREASES Focus and Productivity:
This is what I call "Re-Creation." In other words, it will help you "re-charge" your mental battery to deal with the stresses of daily living so you can operate at your peak potential.
 As I stated above, sometimes you can nearly DOUBLE your calorie burn using this method because it elevates your heart rate (WITHOUT exercise), which automatically enhances the post workout "after" burn. Also, in theory, this should help accelerate the burning off of free fatty acids (i.e. residual fat) inside the blood stream.
[pro_ad_display_adzone id="8825″]
Sounds too good to be true?  Yes and No.
Can you skip the workout and binge more on the weekends?
The reality is that you still have to exercise 5-6 days a week, and you still have to eat well MOST of the time. You don't have to be perfect to get amazing results.
But you do have to be consistent.
Stay fit and keep learning new things.
Your friend and coach,
Shaun