Part 3 of the Advanced Interval Sequencing series is my favorite…
The Creatine Phosphate system, aka: Metabolic Bursting.
Now if you haven't watched part 1 and part 2 of this series, it's important you check them out before continuing with this video because each system works in synergy with the other to prevent plateaus and accelerate fat loss.
The first video covered the Aerobic Endurance, or Steady State Cardio system, while the second video revealed the rarely talked about Threshold system.
So let's talk about the pros and cons of the Creatine Phosphate system and how you can apply it to your regimen to lose belly fat faster.
Pros of the Creatine Phosphate System
The #1 benefit of the Creatine Phosphate system is that it can create a 48-hour "Afterburn" effect.
In the exercise science world, this is known as EPOC, or Excess Post-Exercise Oxygen Consumption, which is basically just a fancy acronym for the amount of fat and calories burned after a workout.
When you tap into the Creatine Phosphate System the proper way you can increase your metabolism for a full 48 hours afterwards.
A second benefit of the Creatine Phosphate System is that it will save you time because it only requires 12 minutes.
In fact, when I first discovered this exercise system way back in 1998, I was able to cut my exercise time in half — from about 8 to 10 hours a week all the way down to just 4 to 5 hours per week – while taking my body fat levels from 20% to 5% in only 90 days.
And it continues to work on my body even better than before… here's picture proof.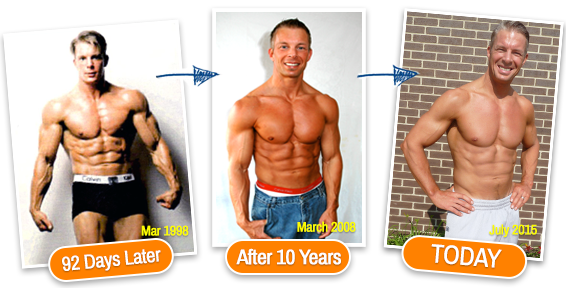 A third benefit of this system is that it release anti-aging and fat loss hormones.
The reason this is so important to note is because almost every diet and exercise plan out there fails to address the hormonal obstacles that could be be blocking your fat loss, especially for those over 40 years of age.[pro_ad_display_adzone id="8825″]
The Creatine Phosphate System involves short, high intensity bursts of all-out effort for anywhere from 10 to 30 seconds at a time, which activates your body's "fight or flight" response (i.e. your sympathetic nervous system).
This is a precursor to releasing hormones called catecholamines, which help you body release massive amounts of free fatty acids in the bloodstream so that you can burn off more stubborn body fat.
Cons of the Creatine Phosphate System
Now as far as cons of the Creatine Phosphate System, the first is that it requires maximum effort.
The problem is that most people don't know how to push themselves hard enough during the 10 to 30 second bursts to release these belly fat-burning hormones to get the results you want to get.
So if you're going to try to achieve the hormone release I'm talking about, you're going to have to push yourself out of your comfort zone based on your current age, gender and condition.
If you're not an experienced exerciser you should condition yourself first with low intensity aerobic exercise. It's also a good idea to be cleared by your doctor for high intensity exercise.
The last potential downfall of Metabolic Bursting is that it can lead to over-training if you're not careful.
This system only requires about three workouts a week (no more—no less) for you to get all the benefits that you need.
Remember, exercise is just the stimuli — the results occur while you rest and recover and nourish your body properly with nutrition.
Make sure you watch the video above to get all the details on how to apply this protocol to your weekly regimen.
Stay fit and keep learning new things.
Your friend and coach,
Shaun