The Siesta Key Beach Diet Trick was created for ONE reason…
And ONE reason only.
NECESSITY.
It all started in January of last year when my wife Karen and I spent our very first winter in Siesta Key, Florida (Sarasota area for those not familiar).
It was our first time ever not living in the freezing cold, snowy winter weather in Michigan so we were obviously VERY excited.
That's when I made the big mistake of opening my big mouth and letting all our friends and family know they were welcome to visit anytime they wanted.
The very first time we had company for a few days I realized…
My diet was gonna be in SERIOUS trouble for the winter (normally a time where I'm VERY focused on diet and exercise).
Here's why (it's all about the environment I was in)…
Our rental was a 5-minute walk to Siesta Key Beach (ranked #1 in the world for a few years in a row by TripAdvisor). Along the way to the beach was a Tiki Bar, a pizza place, the fish market, a liquor store, and a homemade ice cream shop.
Uh-oh.
Within a few days I realized that no matter how many beach runs I did, I wasn't going to be able to "out exercise" this bad diet.
And that's when I came up with a diet trick that would allow Karen and I to still be able to ENJOY our friends, family, and loved ones without being fuddy duds all winter long.
ENTER: The 16/8 Siesta Key Beach Diet Trick
In my opinion, using this "diet trick" is the most flexible way to lose belly fat, WITHOUT depriving yourself of your favorite foods…
That's why I've nicknamed it, "The Flexible Fat Loss Diet Handbook".
I'm happy to report that after 4 months of having company nearly EVERY week, I was still able to lose fat, and stay UNDER 10% body fat…
In spite of eating out at least 4-5 nights of the week, while indulging in red wine, chocolate, and dessert on many of those nights.
For example, below is a snapshot of my great friend Dan Long and I together on Siesta Key Beach towards the end of April…
Keep in mind this is AFTER 3 straight months of drinking a LOT of red wine (and many nights of vodka), while eating BIG late at night.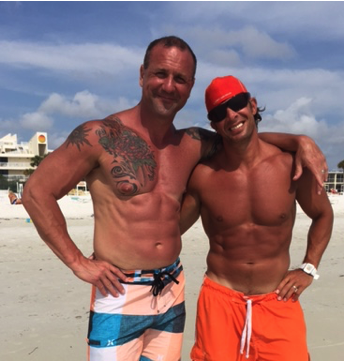 Of course, I'm not "shredded" or "stage ready" by any means, but my abs are still clearly visible.
Karen had equally successful results (we just had to tweak a few things for her gender).
So….
How did we do it?
Simple.
We used the 16/8 Siesta Key Beach Diet Trick.
In fact, it worked so well that I decided to create a new diet plan and eBook based solely on this protocol for a special limited time discount.
What I really love about this new diet is that you can use any of your favorite nutrition approaches while following it.
Paleo
Carb Cycling
Low Carb
Slow Carb
High Carb
Zone
Mediterranean
You name it.
The Siesta Key Beach Diet Trick is BRILLIANT in its simplicity AND flexibility.
Go grab it HERE and start having WAY more fun with your diet!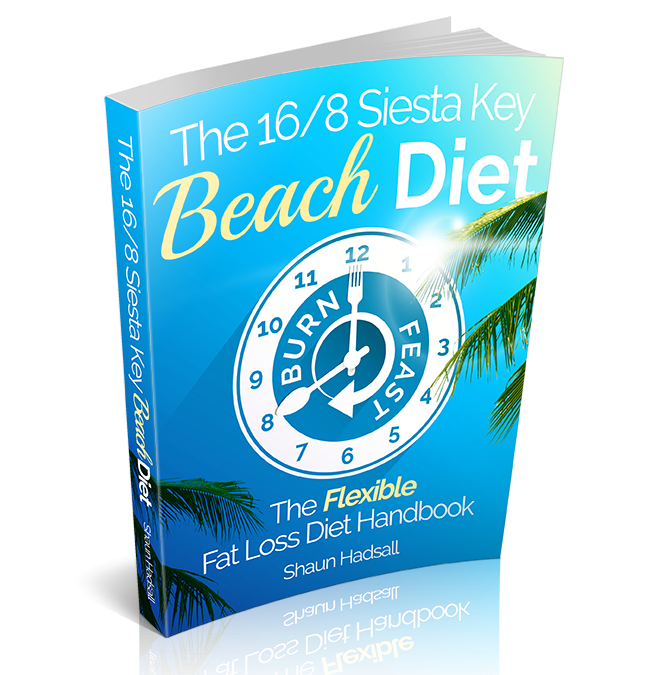 Ladies, you'll also discover how my wife Karen incorporates the same approach based on her age, gender, goals, lifestyle, and activity level.
New 16/8 Siesta Key Beach Diet ONLY 7 Bones (LIMITED time only)
IMPORTANT: This special price is time sensitive and we are only offering this daily deal for a few days.
Which is why we set up a "hidden" private webpage that only you have access to.
But once the 72 hour timer expires you'll be placed on a waiting list in order to get a copy. 
==> My New 16/8 Siesta Key Beach Diet for UNDER 10 bucks (48rs only)
Pay close attention to my next few emails…
If you're still wondering if this is for you or not, my next article I'm going to take a deep dive into this unique way of dieting with 11 evidence based reasons this protocol is so effective.
Keep going strong.
Your friend and coach,
Shaun