Reduce Back Pain!
I remember back in my early twenties squatting 500 pounds like it was no big deal.
Nowadays, I wouldn't even THINK of attempting that – or any heavy back squats for that matter.
In fact, I actually regret every single one of those heavy sets now that I'm in older because of the severe back pain and stiffness I suffer from on a daily basis.
If your back hurts or you frequently feel stiff there's a very good chance you've got flexibility and strength imbalance issues in your hips, hamstrings and abdomen — like me.
These body parts are all connected, and when one is compromised due to inflexibility, weakness or injury, the others are affected too.
This is definitely not my area of expertise.
But recently my good buddy Adam Steer introduced me to a few simple stretches that reduce back pain by increasing mobility in the hamstrings and strength in the abdomen.
But I want to focus on your hips, because that'll give you the best bang for your buck
Think of these two movements as your "program minimum" for busy people like us.
Why is addressing the hips such an effective solution for back pain?
Because shortened hip muscles lead to alignment issues in the spine, poor posture, and eventually to chronic low back pain.
Performing hip flexibility exercises at least three times a week will contribute to the overall health of your spine—and help keep your back pain free.
Reduce back pain, and stop aching knees after using these two simple movements consistently.
Here they are:
Half Butterfly  (Ardha Titali Asana)


Starting position                                     Ending position
Description
 Bend one leg and place your foot on the inside of the opposite thigh.
 On an inhalation, gently move the knee up towards the chest.
On the exhalation, gently push the knee down toward the ground. Use the same hand as the knee that is bent. The other hand rests gently on the passive leg.
 Do not force the movement and repeat 25 times on each side.
Use caution and straighten out your leg from your chest in a safe position.
Hip Rotation (Shoroni Chakra)
Description
 Begin in Seated Base Position
 Bend your right leg and place your right foot on your left thigh.
 Place your right hand on the knee of the right leg and your left hand on the ankle of the right leg.
  Using the muscles of your arm, rotate your right hip in a circle.
Try to make the circular movement as large as possible.  Synchronize your breath by inhaling on the upward movement and exhaling on the downward movement.
  Before going to the other side, bring your knee to your chest and straighten out your knee from a safe position.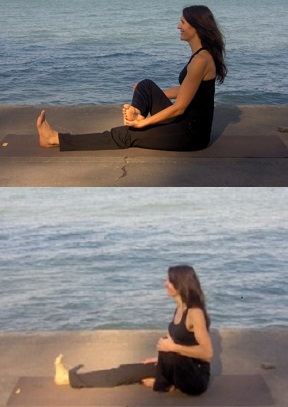 Modifications: If your hips and hamstrings are too tight to perform this exercise as I've described it, use a shorter range of motion starting from the floor.
Try adding these two simple movements to your daily routine to reduce back pain and I think you'll be pleasantly surprised.
They only take a few minutes to perform, and your back and your hamstrings will feel a helleva of a lot better.
If your problem is somewhere else and you're experiencing uncomfortable tightness in other areas
of your body, these two simple stretches could indirectly help.
But I still recommend you do more for your long term health
and longevity like Shapeshifter Yoga
It gives you all the benefits of "traditional" yoga…
…BUT – it's not boring AND it forces your body to hit the
"sweet spot" of the fat-burning zone every time you use it:
IMPORTANT NOTE: This type of "yoga" stretching should never hurt.
It's all about doing what's best for your body.
And when you do the poses correctly, your body gets stronger, leaner, and more flexible over time – without causing pain on your joints and muscles.
Best of all, it only takes one hour per week to see and feel fantastic results.
In fact, yoga expert Kris Fondran performed a scientific study on the health and fitness benefits of yoga for her Master's degree.
In this study, she proved that a simple 10-minute ritual of  yoga just twice a day, three days a week, can make a  dramatic difference in how you look and feel.
I never, ever thought I'd be a yoga fan.
But ever since I started consistently using this stuff, everything just "feels" better.
Sleeping, sitting at my desk, waking up in the morning,  even my workout performance has improved from less joint pain and stiffness.
Yes, it sucks getting old. 🙂
But this is truly an awesome method for anybody who wants to prevent injuries, alleviate aches, pains and stiffness, and improve their quality of life.
==> Reduce Back Pain
Keep going strong,
Shaun