By now, you hopefully know that despite their popularity, situps and crunches are largely ineffective and more importantly, dangerous in that they can damage your back, leading to herniated disk and other potential back pain problems.
Crunches and situps also focus solely on the surface ab muscles or the hip flexors in the case of situps, neglecting the deeper core muscles that provide so much of the functional power needed in sports and daily activities.
So, while others are wasting their time and potentially setting themselves up for back pain by continually doing crunches and situps, try this alternative that is not only an amazing core-strengthening exercise but also a total body exercise when performed correctly.
I'm talking about the plank.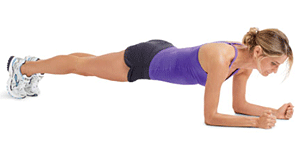 Shred Your Abs in the Best Possible Way
Planks will shred your abs in a good way while strengthening your entire body — your shoulders, your back, your glutes, your quads, your overall core and more.
Planks are an isometric exercise, which means the muscles involved in the exercise do not change in length while being tensed.
This is opposed to concentric exercises, where the muscle tenses while shortening (think of the initial part of the biceps curl where you're bringing the weight up), and eccentric exercises, where a muscle tenses while lengthening (think of the lowering portion of the biceps curl).
So even though you aren't lifting any weights or moving your muscles in isometric planks, a wide range of muscles are under continual tension, making it hard to hold the position when starting out for more than 30 seconds.[pro_ad_display_adzone id="8825″]
You'll be constantly contracting your abs and glutes to hold the plank position, and the longer you can hold your plank in the correct position, the stronger your lower back will be, helping to prevent common low back injuries, and the better your abs will look as you decrease your body weight to really bring out ab definition.
In this three-part series, we'll cover the key advantages of adding planks to your regular exercise workout, detail the four fundamental plank positions for getting started with this total body exercise, and finally explore some of the more advanced forms of the plank that you can add in as you get comfortable and stronger with the basic plank.
First, let's highlight five of the biggest advantages of doing planks:
A Core Crusher. Planks will wreak havoc on your deep inner core muscles – in the best possible way, of course. If you're looking for a super strong core that will help stabilize and strengthen you all around, the plank is the perfect exercise for you.
Improved Flexibility. Planks help strengthen and improve stability as well as flexibility in many areas, particularly your shoulders, upper back and many of your posterior chain muscles, which includes your lower back, gluteus maximus (glutes), gluteus medius (when doing side planks), hamstrings and calves.
Improved Balance and Posture. Planks, especially side planks and more advanced forms of the standard plank such as planks with leg and/or arm raises and planks performed on stability balls, will help increase your balance.
And by targeting your shoulders, core and back muscles, planks will improve your posture over time and help counter the posture-destroying effects of sitting at a computer or in a car for so many hours of the day.
Prevention of Potential Back Problems. By strengthening your core and back muscles, you'll be protecting your back from potential back problems like bulging and herniated disks, as well as help reduce any existing lower-back issues you might be struggling with.
A Total Body Exercise. We've mentioned this already, but the plank will test and strengthen so many muscle groups in such a short period of time.
This "return on investment" means you'll be getting great results in less time when it comes to adding strength to your core, shoulders, upper and lower back, glutes, quads, hamstrings and other key muscle groups.
Now that we've covered some of the many advantages of adding planks to your workouts, let's take a closer look at the four fundamental plank positions for getting started with planks.